Just five years ago, digitalization and digital transformation were means of competition. But today, it is becoming a matter of business survival, for example, for banks, retail, and telecom. How does digitalization differ from digital transformation? In a nutshell, the difference between the two concepts is a change in business perspective. Digitalization has a shorter focal point. Digital transformation requires a special platform to be effective in the long term. Therefore, digitalization and digital transformation are stages of maturity for the company, management, and the market as a whole.
This article will discuss what a digital transformation platform is, types of transformation solutions, and digital transformation platforms for 2023.
What is a digital transformation platform?
Digital transformation platform refers to the infrastructure, software, and tools companies use to accelerate and facilitate digital transformation. A digital transformation is a strategic approach to applying modern digital technologies such as artificial intelligence, data analytics, cloud computing, the Internet of Things (IoT), and automation to optimize business processes, improve customer experience, increase efficiency, and achieve competitive advantage.
A digital transformation platform may include the following components:
Cloud computing. It enables companies to utilize flexible and scalable computing resources without investing in their own infrastructure.
Big Data. These data enable the collection, analysis, and use of large amounts of data to make more informed business decisions and predict trends.
Artificial Intelligence (AI). Used to automate tasks, it optimizes processes and improves customer interactions through various systems.
Internet of Things (IoT). It provides the ability to collect data from networked physical devices to monitor and control manufacturing processes, infrastructure, and other areas of operations.
Process automation. Automated procedures allow routine and repetitive tasks to be replaced, increasing operational efficiency.
Priority areas of digital transformation include the digitalization of business processes and work with data, as well as customer experience management. Currently, on average, about half of business processes in all industries and companies have been digitized.
The second most important area is working with data. Here we are also seeing an increase in maturity. Data is starting to be used for more complex tasks.
Digital transformation is becoming increasingly important for businesses, enabling them to be more competitive and adapt to changing market conditions. A digital transformation platform is key to implementing an effective digital transformation strategy.
Unable to choose a reliable partner that provides a full range of digital transformation services?
Contact us!
What role does digital transformation play?
No matter how you feel about digital transformation, it can no longer be stopped. Digital transformation is not a cause but a consequence of larger economic and demographic processes.
The planned economy has been replaced by a market economy, which has now become digital. More and more businesses are appearing that are based on information technology alone. Great examples are Uber, Airbnb, and Bolt.
The change in economic models was spurred by the fact that mathematical models, algorithms, and approaches developed in the last century are becoming more and more accessible to both consumers and businesses. In 10 years alone, between 2005 and 2015, the price of information processing has fallen by an average of 60 times, broadband Internet access by 40 times, information storage by 25 times, and sensors by half.
Organizations and even entire industries have set in motion the process of digital transformation. As a result, over the past few years, the world has rapidly entered a new era of the digital economy.
We are surrounded by mobile devices, smart TVs, refrigerators, and watches that monitor our behavior around the clock and start prompting and recommending to us. Sensors are being integrated not only into industrial equipment but also into household appliances, furniture, clothes, interior items, and cars. Moreover, all these appliances and devices are beginning to interact with each other based on Internet of Things protocols without human intervention. Emerging technological platforms remove intermediaries between the producer and consumer of a product. At the same time, the accumulating volumes of data allow prediction of the behavior of machines and people.
Zoomers (also known as iGeneration), people born between 1996 and 2010, support this economy. They are shaping trends that affect all segments of the economy. Zoomers constitute 26% of the total population across the world. This means 2 billion people are Zoomers. This generation will soon make up 40% of global consumers. iGen teenagers are crucial to retailers because they significantly influence retail purchases and spending.
Isolation was another driver that forced the digital economy and changed behavioral patterns. It stimulated the development of remote working skills, the development of digital transformation platforms, and the robotization of physical aspects of activity. It became clear that the world would henceforth be digital and remote.
Therefore, the digital transformation task at the top level can be formulated as "to prepare the company to work in the digital economy, which will allow it to quickly adapt to the new conditions".
Look for partners with case studies and niche expertise? Get a consultation!
Five best digital transformation platforms for 2023
Here is a list of the best transformation software.
Glue Up
Glue Up is a platform that helps professionals grow their businesses by automating and enhancing their communities. It has many features that make it easier to manage events and communicate with members. Its all-in-one software includes a CRM, which helps you keep track of important information like email campaigns and invoices. You can easily transfer data between different platforms, which makes it more convenient to use.
E2Open
E2Open is software that helps companies manage their supply chains and business processes through the Internet. It allows businesses to manage their global trade and transportation logistics in one place, making it easier to keep everything organized and running smoothly.
MuleSoft
MuleSoft is a tool that helps IT companies create and connect digital products more easily. It's like a big, flexible network of different computer programs and services that all work together. You can think of it as adding another layer of functionality to your existing product, without messing up anything that's already there. This makes it easier to improve and upgrade your product over time.
Mendix
Mendix is software that helps companies create their own apps faster and easier. It lets people work together without causing any issues in the company's operations. This means fewer mistakes and more success! By using Mendix, businesses can bring in new ideas and improve their work, leading to better results and happier employees.
WSO2
WSO2 is software that helps connect different computer programs, data, and other digital tools. It makes sure everything is secure while it's working together. With WSO2, you can create and manage many different digital tools all in one place. It doesn't matter if you're working from home or somewhere else because it can work on different types of computers. It's easy to see what's happening with all of your digital tools, and you have control over them the whole time.
How SoloWay Tech can help your digital transformation journey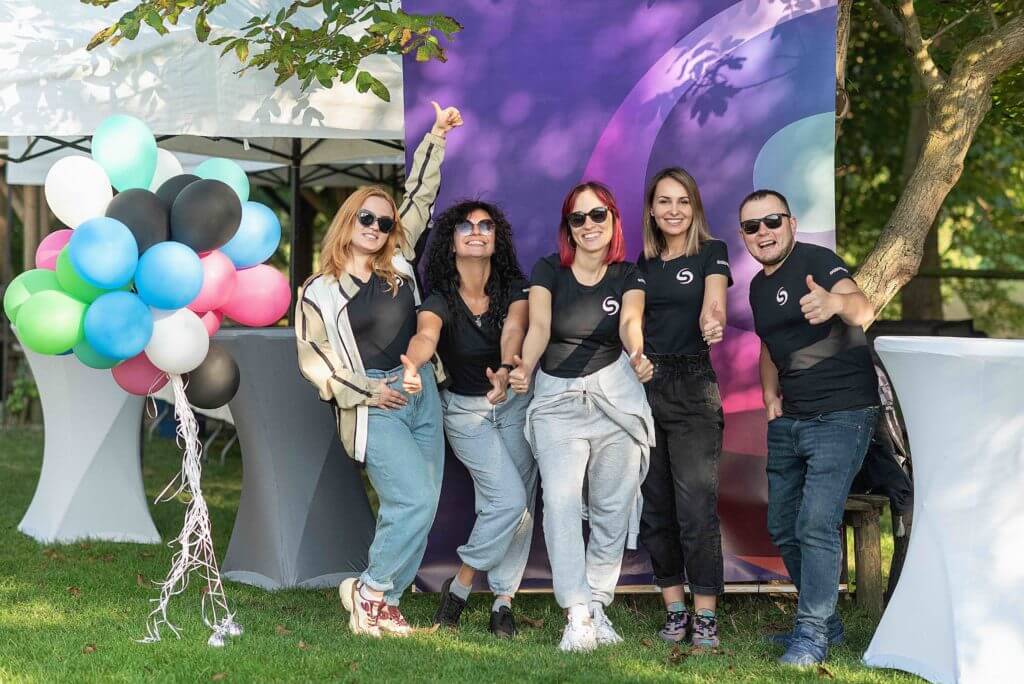 SoloWay Tech is a leading provider of digital transformation and consulting services that cater to any businesses looking to thrive in the digital age. We can:
Consult regarding the digital transformation of your business
Develop a digital transformation strategy
Design digital customer experience
Optimize business processes
Automate business processes
Re-engineer legacy apps
Develop innovative products and services
Implement end-to-end ML and AI engines
Engineer IoT
Build Big Data infrastructure
Consult regarding the best implementation of IT infrastructure in your business.
We can scale quickly to handle digital transformation projects of any complexity. Organized SoloWay Tech processes will allow you to start working on the project almost immediately. Moreover, we have over 14 years of technological expertise and experience in digital transformation projects.
Conclusions
Investing in digital transformation software is relevant for any business. Thanks to modern marketing and communication tools, both a start-up organization and a well-known commercial giant will find it easier to optimize processes, eliminating deficiencies in their business model.
Digital transformation is a process that aims to maximize customer centricity, and it can be fraught with misguided investments or poor decisions. However, digital transformation should be seen as the only way for a company to be competitive in a dynamic and volatile market.