Online sales are a profitable business nowadays. Since 2011, the ecommerce market has been steadily growing. The global ecommerce market size was estimated at USD 10.36 trillion in 2020, and it's expected to reach USD 27.15 trillion in 2027.
The covid-19 pandemic and digital transformation forced many businesses to move online, creating a high demand for ecommerce websites. Thus, the popularity of ecommerce building platforms has grown rapidly. Take Shopify as an example. According to Marketplace Pulse, Shopify had 1,069,000 merchants. By the end of 2020, their number exceeded 1,7 million merchants. 
Online shop building software gives tools to create a working ecommerce website. However, not all of them are highly customizable. If your business has unique goals, – custom development is an option to consider.
In this article, we'll cover how to build a custom ecommerce website for your business.
What Is Ecommerce? Definition and Meaning
Ecommerce (or electronic commerce) is an activity that implies buying and selling services or goods via the Internet.
Ecommerce operations can be run on different devices like computers, smartphones, and laptops. Ecommerce made it possible for customers to purchase goods and services cost- and time-efficiently, and for businesses to widen their market presence, improve distribution channels and make their brick-and-mortar business stronger.
As a part of global electronic business, ecommerce interacts with third parties to make a transaction (payment processing services, shipping services, etc.). Ecommerce can be present in any market segment including:
B2B – business-to-business,
B2C – business-to-consumer,
C2C – consumer-to-consumer,
C2B – consumer-to-business.
Ecommerce is suitable for businesses of any size, even individual merchants can set up an ecommerce website and sell anything on the Internet. Here are the benefits ecommerce holds for merchants:
24/7 availability for customers,
ability to widen your product line,
quick and affordable start,
wider customer base (including international),
ability to use digital marketing strategies for business growth.
Marketplace vs Custom Ecommerce Website
Now that you know what ecommerce is, let's look at the options for creating an online commerce website.
If you want to launch an ecommerce business, you can either build your website with a marketplace builder or develop a custom ecommerce website. Let's break down these two by definition.
Marketplace Platforms
Marketplace builder is a software program that allows you to create and publish an online store to unite buyers and sellers on one platform.
Marketplace builders may differ by functionality and level of complexity. There are three main types of ecommerce platforms you can leverage for your business:
General-purpose website constructors with ecommerce features. Website builders like Wix offer plenty of user-friendly templates to create websites without coding. You can add to your website ecommerce features such as a shopping cart, product cards, catalogs, payments, etc.
Dedicated ecommerce platforms. Dedicated platforms allow business owners to quickly launch a scalable and full-fledged ecommerce website. Platforms like BigCommerce empower ecommerce with marketing features, multichannel sales, and secure payments. These platforms offer out-of-the-box solutions and tools for developers to customize the website.
WordPress ecommerce plugins. WordPress is widely used for creating ecommerce websites. You can add ecommerce features to any WordPress site using ecommerce plugins such as Ecwid Ecommerce Shopping Cart, or Cart66 Cloud.
Custom Ecommerce Website
A custom ecommerce website is an online shop tailored specifically to your business goals.
Custom ecommerce platform allows you to set up a unique user experience and stand out from your competitors. You won't be tight to typical ecommerce site designs and themes because developing a custom ecommerce platform gives you the freedom to design your online store as you want. Custom ecommerce benefits include but aren't limited to:
higher control on search engine optimization,
freedom to work on your branding,
higher scalability,
ability to add unique integrations.
You should take into account that building a custom ecommerce website is more time-consuming. Still, if you're looking for ways to stand out from your competitors, – a custom solution may be a better choice.
Hire the best talents that nurture ideas into standalone products.
Get in touch
How to Build an Ecommerce Website Step-By-Step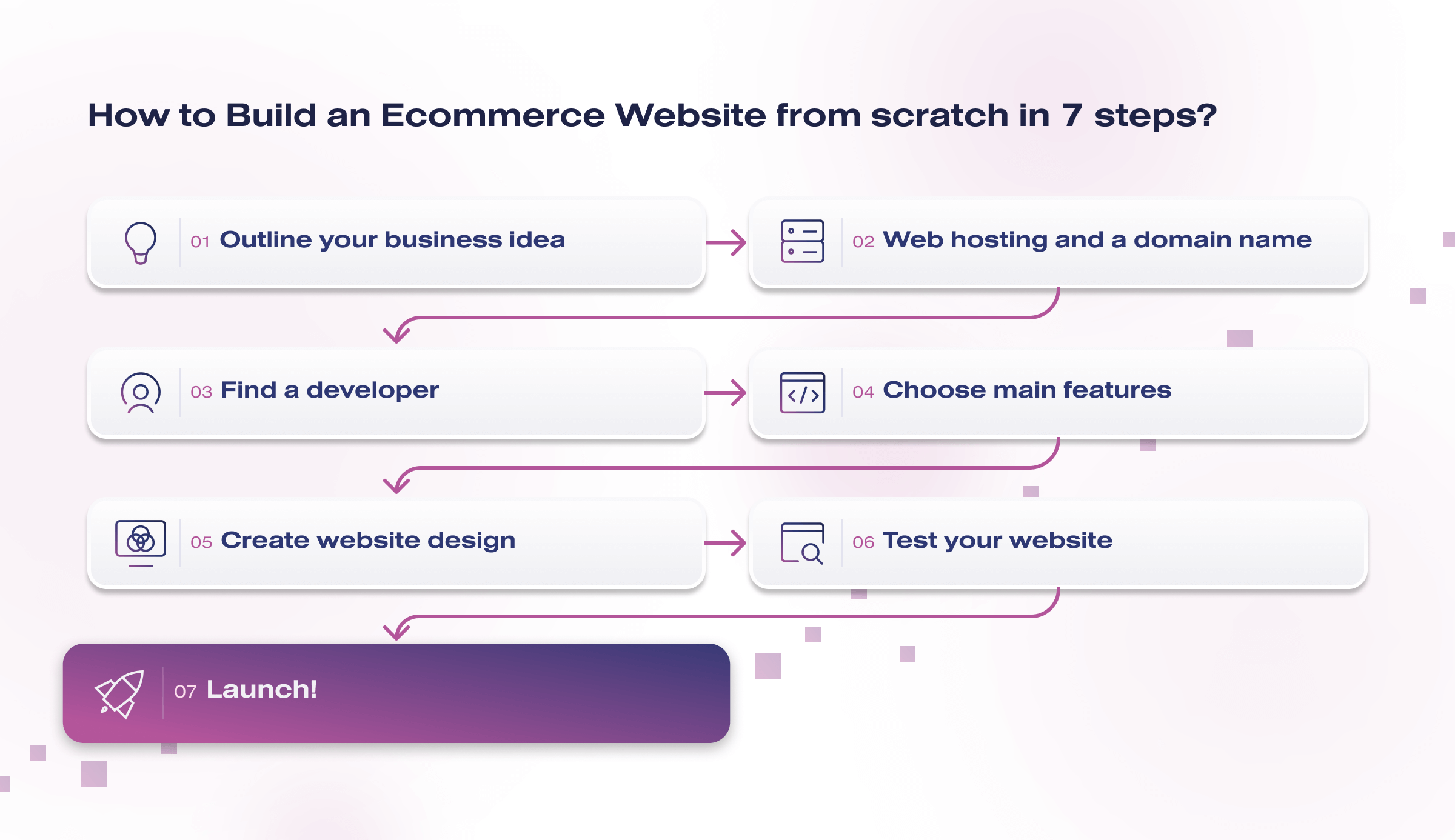 Building ecommerce website requires thorough preparations and planning. Consider the following seven steps for creating your ideal ecommerce platform.
Outline your business idea
Start by describing your business goals, target audience, branding, and revenue model. Conduct marketing research to define your target audience, their pain points, and their expectations. Analise, your competitors' websites to come up with ideas on how to stand out. This information will help you to design UI/UX, choose website features, and set up proper payment processing.
Web hosting and a domain name
Your website will need a place where it will manage the data about your customers, products, purchases, etc.
Web hosting types available nowadays include:
shared hosting,
dedicated hosting,
cloud hosting,
virtual private server hosting.
When choosing a hosting provider, consider storage space available, traffic limits, loading speed, and customer support. The best ecommerce hosting providers to look out for are InMotion, A2 Hosting, SiteGround, DreamHost, etc.
Now you can pick a domain name and link it to a web hosting so developers can place your site there.
Find a developer
Even though website builders offer dozens of templates for creating ecommerce websites, it's best to delegate site development to professionals. You can find developers experienced in ecommerce website builders on freelance platforms or turn to a software development company.
Hiring a software development company reduces time on building ecommerce solutions that comply with your specific requirements. Experienced developers can assess your business needs and offer the most suitable solutions for achieving your goals.
Choose main features
After you've got the team on board, you can decide what features should be on your site. Focus on the essential features first. Implementing must-have features at the beginning makes it easier to go to the market fast and receive first outcomes. Then, you can assess what your platform lacks and improve it iteratively. The essential features of an online commerce website are:
navigation,
catalogs,
product cards,
product filtering and sorting,
shopping cart,
checkout,
email confirmation.
Create website design
Now it's time to design your platform. Make sure your site design communicates your vision and highlights your brand identity. You should also provide a smooth user experience, for example, design easy-to-use navigation, provide responsive screens, divide the information into simple and easy-to-understand visual chunks, etc.
Test your website
Everything is set up, let's test your website. Normally, the development team will ensure everything goes smoothly on your platform. However, you're more than welcome to test the website to assess user experience flow. Make a test order to see if all the features work as they should. If you've detected some bugs, report them to your development team and get ready to launch your ecommerce website.
Launch!
Congratulations, your website is on. Be patient, as launching the site doesn't mean immediate sales. You may want to dedicate some time to marketing activities at this point. Also, launching a site isn't the finish line, maintenance and updates are required. Plan what's to be improved, and grow your business.
How Much Does It Cost To Build an Ecommerce Website?
Depending on how you want to build your site, the cost for development will differ. Marketplace platforms offer paid plans for their services, so building an ecommerce website on such platforms may cost you from USD 30/month to USD 300/month depending on the chosen package.
Developing the custom online shop depends on the developer's team size, the required set of features, and the time required to build them. You'll need from 3 to 6 months to develop the site. The development cost of an online store may vary from $8,000 to $30,000.
The difference between a marketplace platform and a custom one is that you pay for custom web development once, while the marketplaces charge you monthly.
Additional costs for both variants may include developer fees, third-party integrations fees, domain name, hosting, etc.
Conclusion
The ecommerce industry continues to grow as the demand for online services increases. If you want to launch an ecommerce business, you'll need a scalable solution with robust features to provide your customers with the best experience.
Custom development services can provide you with a stable and reliable solution without taking much of your time. If you want to launch an ecommerce website, but don't know where to start, – contact our consultants. Our team will respond to you as soon as possible.