Barcoding is one of the most common methods of identification in warehouse management. Barcode-based WMS tracks movement and inventory balances, searches for goods in storage locations, and recognizes warehouse documents. Warehouse inventory management based on barcoding allows for bringing orders to the warehouse and achieving significant business results. We mean optimizing the use of warehouse space, speeding up order picking and shipping, eliminating shortages, and increasing personnel and loading equipment efficiency.
This article will discuss how the barcode inventory management system works, the pros and cons of custom and ready-made inventory management tools, and the steps for implementing inventory management software.
What is a barcode?
Barcode is a machine-readable representation of data in the form of a series of lines or bars of varying widths and spacing. Barcodes commonly store and retrieve information about products, packages, and other items in various industries, including retail, manufacturing, and healthcare.
The information contained in a barcode can be scanned by a barcode reader or scanner, which converts the pattern of bars and spaces into readable text that can be used for inventory control, tracking, and other purposes.
Barcoding technology is quite versatile. It can be used in small and large warehouses. Barcodes are especially relevant in warehouses with a large assortment of products when storing visually similar goods and goods requiring strict control of expiration dates, batches, and serial numbers.
Types of barcodes
There are many types of barcodes, each with a unique format and encoding scheme. The most common types of barcodes:
UPC (Universal Product Code). It is used primarily in North America. UPC barcodes are commonly found on retail products and contain 12 digits.
EAN (European Article Numbering). It is similar to UPC. EAN barcodes are used in Europe and other regions and contain 13 digits.
Code 39. It is a popular alphanumeric barcode used for inventory and asset tracking. Code 39 can encode uppercase letters, digits, and some special characters.
QR Code (Quick Response Code). It is a 2D barcode that can store much more information than traditional linear barcodes. QR codes are commonly used in advertising, marketing, and mobile payments.
Data Matrix. It is another 2D barcode that can store large amounts of data in a small space. Data Matrix barcodes are commonly used in manufacturing and logistics to track products and inventory.
These are just a few examples of barcode types in use today.
How does a barcode inventory system work?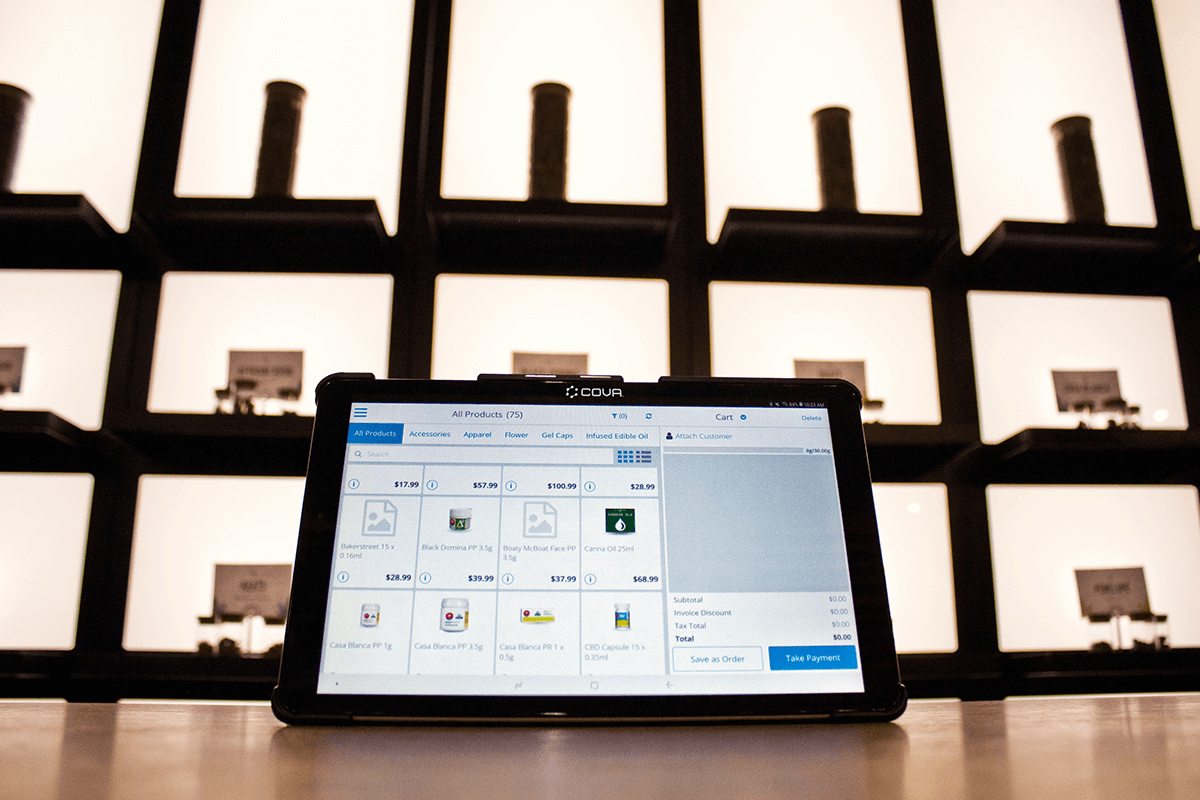 How the barcode inventory management system works:
An individual identifier (barcode) is applied to the goods. Each code may contain typical information about the product (name, manufacturer, place of production) and detailed information about its characteristics: shelf life, serial number, on which equipment and to what specification it was produced, what batch of raw materials went to its production, etc.
Any movement of goods with barcodes in the warehouse involves reading a barcode using a scanner or data collection terminal.
Received data is transmitted to the warehouse information system for registration and processing.
It is possible to barcode not only the goods but also other objects involved in the work of the warehouse, for example:
Storage locations. This makes planning product placement, order picking, and optimizing warehouse operations management possible.
Warehouse equipment. It helps to control its movements and manage loading operations. It simplifies the delivery of tasks to employees: by scanning the barcode of a certain piece of equipment (forklift, transport pallet, stacker), the operator assigns it to himself and receives only those tasks which are executable with its help.
Bill of lading, delivery orders, and other warehouse documents. This reduces the time for registration, searching, and sending documents, and eliminates errors in entering document data into the system.
Staff badges. This makes it possible to control the time employees are on the warehouse premises and their movements and account for operations for piece-rate pay (sorting or marking of goods, assistance in loading and unloading, cleaning of rooms, etc.).
Barcode-based inventory management allows you to optimize many tasks and speed up their implementation.
Custom automated inventory management tool vs. ready-made system
A custom automated inventory management tool is designed specifically for the unique needs of a business, providing a highly tailored solution that can offer greater functionality and flexibility than a ready-made system. A custom solution can be built to integrate seamlessly with existing systems and can be customized to meet specific reporting, tracking, and workflow needs.
On the other hand, a ready-made system can offer a cost-effective and faster solution, as it is already designed and developed for general inventory management needs. Ready-made systems often have many features and integrations already built-in, allowing businesses to implement a solution without extensive customization quickly. However, ready-made systems may not offer the specific functionality a business requires and may require additional investment in integrations or add-ons.
Businesses with unique or complex inventory management needs may benefit from a custom automated inventory management tool. In contrast, those with more standard needs may find that a ready-made system offers a cost-effective solution. Ultimately, the decision to use a custom or ready-made system should be based on a thorough analysis of the specific needs and requirements of the business.
Inventory management software implementation steps
To automate a warehouse using barcoding technology, specialized equipment (label printers, barcode scanners, or data collection terminals) and an information system that will record and process the information coming from the devices are needed. In addition, it will be necessary to develop regulations and train staff.
First step: assess the needs of the warehouse
You should analyze the following:
How many items are in stock?
How visually similar are the nomenclature items?
How much product is received and released from the warehouse daily?
Are expiration dates, serial numbers, and product lots strictly controlled?
What storage system is used?
Do all or part of the products have the vendor's markings?
Are goods subject to mandatory labeling?
Which stages of the goods movement are essential to record?
Which areas of the warehouse are more convenient to use for labeling?
Is there a need to use barcodes to identify personnel and warehouse equipment?
Has warehouse automation been implemented?
What level of costs is acceptable for the introduction of barcoding technology?
What other business-specific nuances need to be taken into account?
Answers to these questions will help you formulate hardware, software, and work organization requirements when automating the warehouse using barcode technology.
Second step: select hardware and software
At Soloway Tech, we can help you create a barcode-based warehouse management system (WMS) from scratch or implement a ready-made solution.
Barcode generation and printing
You need specialized graphic programs to implement the barcoding of goods in the warehouse. Usually, they come with a printer and are also included in the functionality of information systems for warehouse automation.
The choice of printing equipment depends on the number of barcodes to be printed daily:
For printing 10 or fewer barcodes, a regular laser printer is sufficient
For printing from 10 to 10 000 barcodes, a label printer is needed
If the number of barcodes exceeds 10 000 per day, it is advisable to cooperate with the printing shop
Label printers are of two types: stationary and mobile. Stationary label printers are used for large quantities of barcodes. Mobile label printers are convenient for quick marking of goods in the place of storage.
When choosing a device, you should be sure that its functionality meets your needs: printing speed, availability of additional interfaces, label dispenser, label cutter, embedded fonts, etc.
Reading barcodes
Barcode scanners or data capture terminals are used to read barcodes.
Barcode scanner:
It is the simplest stationary data entry and transmission device that reads a barcode and broadcasts the information to a warehouse automation system
It does not memorize information, does not display it on the screen, and does not process it
It is most useful in small warehouses with 1-2 picking and shipping locations
Data capture terminal:
It reads and transmits data as well as serves as a mini-computer with its own interface and means of communication with the accounting system
It displays information about the goods on the screen when scanning the barcode and stores and processes the data
Data capture terminals can work online (radio terminals) or offline (batch terminals).
Batch terminals accumulate scan results and then transmit them in batch mode to the warehouse management system. Batch terminals are advantageous for the barcoding introduction in warehouses:
With a small area without addressable storage
With low intensity and frequency of operations
With goods that do not require control of expiration dates, serial numbers, batches, and other parameters
With a properly organized storage principle (division into zones and areas) and a stable staff that knows exactly where everything is
Radio terminals provide full online control of the goods' movement. They read barcodes and transmit data to the warehouse system continuously via Wi-Fi. Radio terminals are divided into portable and stationary. Radio terminals are ideal in warehouses:
Of any area with an addressable storage system
With the high frequency and intensity of warehouse operations
With goods that have parameters that affect the assembly sequence: expiration date, serial number, batch, etc
With a new or frequently renewed team, in which employees do not know the products and their location
We can consult you on the best option for your business.
Processing of information received from scanners and terminals
Information processing requires an information system that interacts with readers, forms, stores a barcode database, controls their uniqueness, and reacts to possible deviations.
Modern WMS systems have functionality that allows using barcoding to solve important business tasks. But if you need to develop a custom barcode-based inventory management software, it should:
Optimize the management of logistics flows and warehouse space
Plan and monitor the work of staff and warehouse equipment
Generate detailed reports for the analysis of assortment, sales, profitability, and margins
Plan product requirements and manage purchases
Automatically transfer data into the accounting system for reflection in the regulated accounting
Soloway Tech team can develop for you a custom barcode-based inventory management system from scratch.
Third step: train employees and test the barcode-based inventory management system in operation
It is desirable not only to train personnel but also to develop regulations of work with the barcode-based inventory management system so that new employees can quickly master the barcoding system.
Testing the WMS and barcode system in a real environment will help identify bottlenecks and adjust business processes promptly.
How SoloWay Tech can help you implement a barcode-based warehouse management system?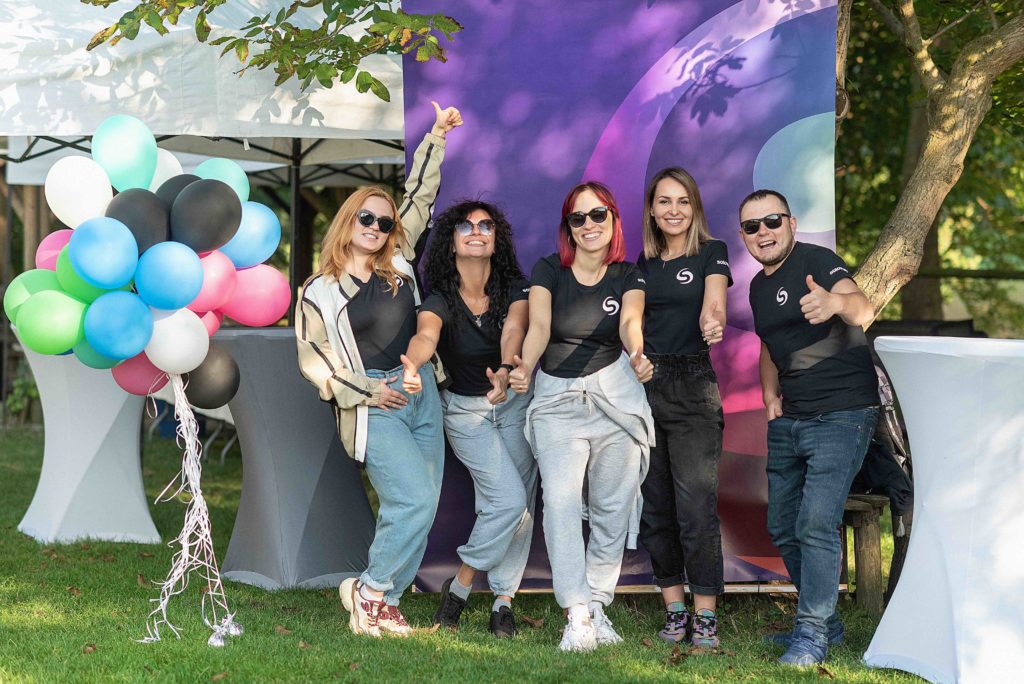 SoloWay Tech is a technology company specializing in implementing barcode-based warehouse management systems for businesses of all sizes. We can:
Consult you. We can comprehensively analyze your warehouse operations to determine your business's best barcode-based inventory system solution.
Customize your system. We can customize and configure the inventory management software to meet the specific needs of your business, including features such as order processing, inventory control, and shipping management.
Develop custom solutions. Our experience in this field allows us to create a custom barcode-based warehouse management system that will meet your specific requirements.
Overall, we can provide a complete solution for implementing a barcode-based system, from initial consultation and analysis to ongoing support and maintenance.
Conclusion
If you need advice, help with equipment selection, or a reliable partner for barcode inventory management software development, contact Soloway Tech. We have over 14 years of experience in developing and implementing inventory management systems and solving efficiency problems.