In an era defined by rapid technological advancements and ever-evolving societal needs, the education sector stands at the forefront of change. The digital transformation in education has ushered in a new era of teaching and learning, revolutionizing traditional practices and expanding the boundaries of what is possible in classrooms and beyond. As educators and institutions strive to adapt to this digital revolution, they encounter a myriad of trends and challenges that shape the landscape of education today.
This article discusses what digital transformation means for education, the key technologies enabling digital transformation in education, and the digital transformation of education in Ukraine.
What does digital transformation mean for education?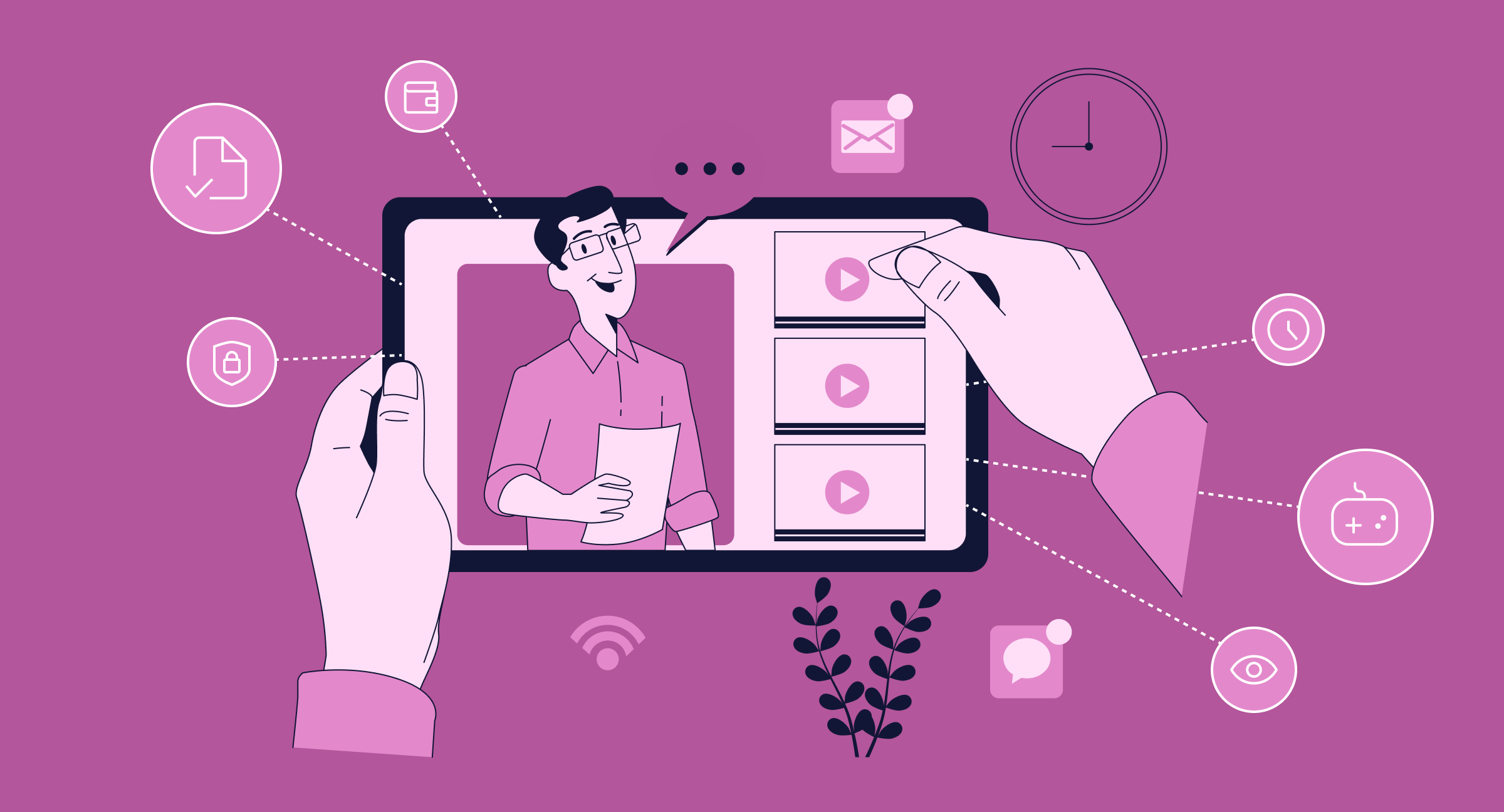 Problems that digital transformation can solve in education:
High cost of teaching materials. Paper textbooks are purchased for schools by the state. This is a big expense. With the help of digital books, it is possible to reduce these costs.
Poor quality and unverified educational content. As for digital educational content, it now exists on different platforms. There is no single platform where all educational materials verified by the authorities and compliant with standards would be placed.
Risks of theft of personal data of teachers, students, and their parents. The diversity of digital systems poses a threat to cybersecurity. Users must register on many different platforms, not all of which are well protected.
Educators spend a lot of time entering information into various systems. This fact also causes problems with the quality of that data. Teachers spend up to 4 hours daily filling out various reports, most unrelated to subject matter or classroom management. Teachers do not have the resources or incentives to verify this information, nor is there integration between different information systems. Such data cannot be a good basis for management decisions.
Limited and non-transparent traditional learning formats. Even for an ordinary multiple-choice test, a student receives a grade only after the teacher checks it manually. The load on teachers is enormous, and feedback is not prompt. In addition, paper-based learning materials are more difficult to adapt for children with health problems. Paper-based learning materials do not provide teachers, parents, and students with as much objective data as digital formats.
The Internet and gadgets for children are a means of entertainment, not learning. Digital products compete with schools for students' attention, and their capabilities are not utilized in the learning process. In addition, parents and students often do not know where on the Internet to find useful contests, enroll in courses, or get a digital certificate for additional education.
Considering such problems, it is tough to continue the work of schools in force majeure, offer students a variety of verified digital content, and reasonably form individual learning trajectories.
What results are expected from digital transformation in education?
The main goal is to make high-quality and, very importantly, verified digital educational content and related services available in all regions of the country. This will benefit all parties to the educational process:
Students will be able to use digital content for personalized development, and AI will help them determine their own trajectory.
Teachers will have several times less routine work due to automated homework checking, electronic timetabling, document management, and more opportunities for professional development.
Parents will have better contact with schools.
The state will receive electronic reporting and reach a new educational system management level based on objective data and citizen-friendly services.
Schools will be able to implement individual trajectories of student development using advanced digital technologies.
This is why many governments are now actively researching the possible results of digital transformation in education.
What are the key technologies enabling digital transformation in education?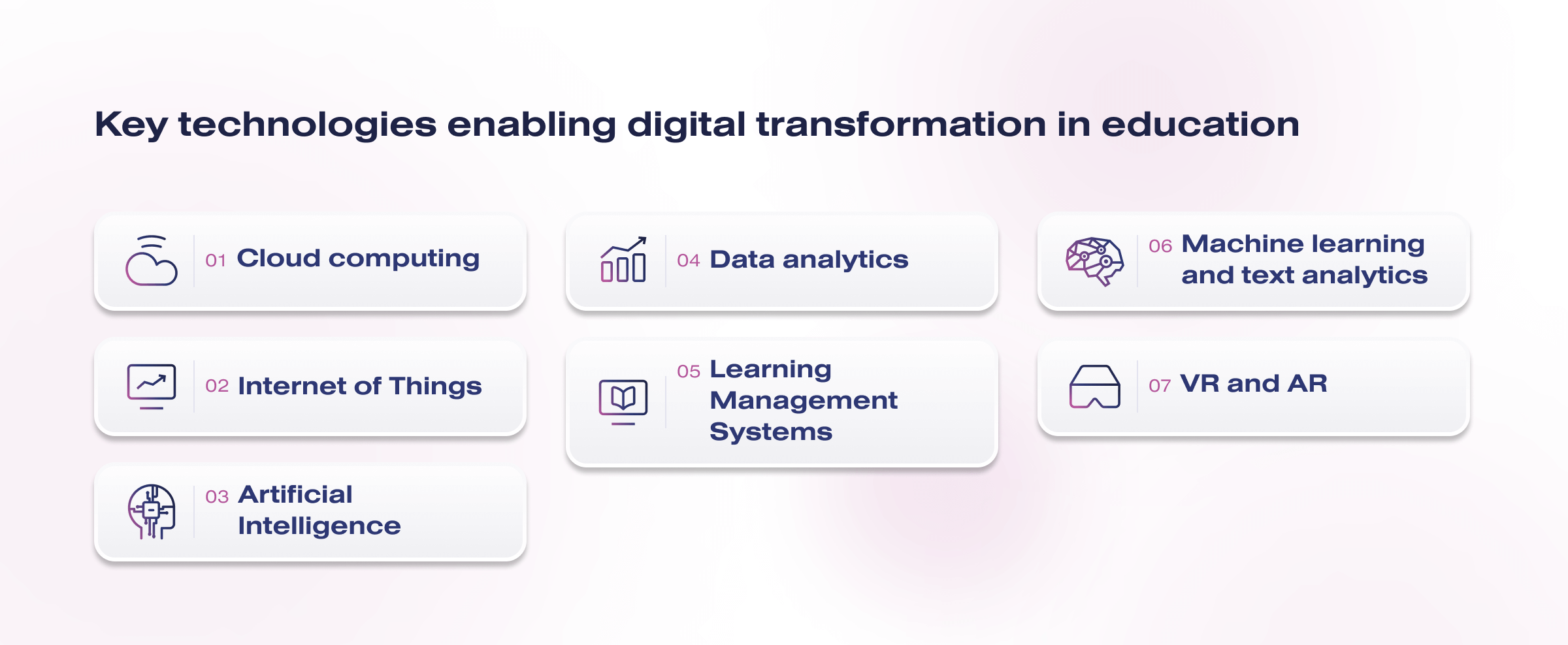 Digital transformation in education relies on various technologies changing how we learn and manage learning processes. Here are some of the key technologies playing an important role in this process:
Cloud computing. Cloud platforms allow educational institutions to store data and resources in the cloud, making information accessible anywhere. This facilitates collaborative learning and reduces the need for localized servers.
Internet of Things (IoT). Sensors and IoT devices can collect data about learning processes, helping teachers and administrators make more informed decisions.
Artificial Intelligence (AI). AI can be used to personalize learning, create adaptive learning materials, automate assessment, and predict student performance.
Data analytics. Data collection and analysis allow institutions to gain insight into student performance and optimize instructional programs and techniques.
VR and AR. These technologies enrich learning by providing students with immersive experiences and visualization of complex concepts.
Machine learning and text analytics. These technologies can be used to automatically classify and process textual data, as well as create intelligent learning systems.
Learning Management Systems (LMS). These systems provide institutions with tools to create, manage, and distribute learning materials and to monitor student activity.
Digital transformation in education involves a combination of these technologies to make learning more accessible, efficient, and interactive for students and teachers. At SoloWay Tech, we have experience with digital transformation projects. For example, we developed an educational application Optima School. It is the first and largest online general education school in Ukraine, offering its students the opportunity to receive modern European education.
Digital transformation of education in Ukraine: "Mriya" system
The Ministry of Education and Science of Ukraine, with the Ministry of Digital Transformation, is preparing to launch an innovative digital educational project called "Mriya".
The project "Mriya" is one of the key steps in the digitalization of education in Ukraine. Perhaps it will even surpass the previous project of the Ministry of Digital Transformation – "Diya".
The main objectives of the "Mriya" project
The main task of the educational system "Mriya" will be to analyze the standards of education, assess the work of teachers, and analyze students' needs. The system will be based on artificial intelligence and will be aimed at supporting the educational process through individual understanding of the needs of each child.
According to the Office of the President of Ukraine, the main goal of the "Mriya" project is to give a child personal educational space and a unique development algorithm, opening up the opportunity for every Ukrainian to become who they want to be.
The app will help children, parents, and teachers navigate the learning process and beyond more effectively and will promptly indicate what to pay attention to and what to devote more time to. It will contain a library of relevant content for a particular child, information about educational programs, courses, videos, extracurricular activities, competitions, etc.
The app will recommend what a particular child needs based on their educational path, their talents, and what they can already define as a dream. No matter what age. No matter what geography. The main thing is that the child succeeds.
Main characteristics of the "Mriya" system
First of all, "Mriya" will finally make teachers' lives easier. The Ukrainian government is removing as much paperwork as possible. As a result, teachers will focus on teaching, not wasting time.
"Mriya" will provide parents and students with various useful tools and information:
Diaries and content. The system will include electronic diaries of students, as well as provide students with access to educational content.
Educator information. Parents will be able to get information about educators, their qualifications, and teaching methods. The app will also allow parents to receive feedback from the teacher.
Innovations for educational institutions. "Mriya" will provide an opportunity to propose and implement innovations in educational institutions.
Grant opportunities. The system will inform about available grants and scholarships.
Information about the education system. Parents and students will be able to get useful information about the education system in general.
The "Mriya" system will be an important tool to support the educational process and improve the quality of education. In addition, the app will allow children to have an ID, a unique digital child document for greater protection and opportunities in the adult world, like "Diya". Parents will also be able to see what their child is more talented at, understand what the child needs help with, and what they are good at. In addition, Mriya will also contain content for parents to help them develop themselves.
The "Mriya" system launch is planned for late fall or early winter 2023. It is expected to significantly contribute to the digital transformation of education in Ukraine.
Conclusion
The phenomenon of digital transformation in education is a dynamic and inevitable evolution driven by a convergence of technological advancements and the changing needs of learners and educators. This transformation is not merely a trend but a necessity in our rapidly evolving world. The adoption of digital tools and technologies in education can revolutionize how we learn, teach, and interact with educational content. Want to review your digital transformation ideas? Contact us!