Your Solo Way starts here

Soloway is a symbol of Ukraine. It embodies freedom and talent. We are always searching for highly talented people to join our team.
What do we appreciate in Soloway
Self-expression
We are looking for perfectionists who desire to express themselves freely. Our dream team member enjoys being surrounded by open-minded colleagues and achieving outstanding results together.
Team Cooperation
Our ideal talent is a team player who maintains, cares, and listens to others. We are convinced that cooperation is an essential element in achieving goals.
Empathy
What matters to us is the candidate's empathy and ability to get involved in the client's business. We appreciate the ability to build comfortable communication based on mutual respect.
Worthy ambitions
We as a company declare sustainability development as the basic principle. We want our candidates to set challenges for themselves and be ready for permanent education & personal development.
Advantages of working at Soloway
Self-development
Opportunity to work on ambitious projects and challenging tasks
Chance to be a part of entrepreneurship
Personal roadmap with regular performance reviews
Professional growth and development within the fast-growing company
A personal motivation system based on your contribution to the common cause
The opportunity to turn your ideas into reality
Cozy atmosphere
Flexible working conditions
Medical care and English classes
No micromanagement and pressure
Comfortable office with bookcrossing
Unforgettable corporate events and holiday celebrations
Personal mentoring and soft integration into the professional and friendly team
Who will you work with?

It is like a big family that supports, sympathizes, helps. It seems that there are no such difficulties that cannot be solved in the collective of these people. An active working atmosphere and the environment of ambitious employees contribute to achievement of the set goals. Many opportunities open up before you that builds the foundation for growth. Join us and ...the sky is the limit...
Galyna Ganchar
Strategic Partnership Manager

You ask why us and why with us? All the magic is in our team and approach to problem solving! We bring talent together around common goals. Our main goal is not just to "do something" for the client, but to effectively help the client: conquer new markets, implement ideas, build a successful business or optimize existing processes to obtain higher income and efficiency.
Olena Salii
Business Development Manager, Team Lead

Work is part of my life! I don't just work at the SoloWay company, I live. My life is full of challenges, victories, satisfaction, support and inspiration. I like to look into the eyes of my colleagues and see happiness there, together we make our life more interesting, business more profitable and the country stronger.
Svitlana Oleksyn
People Partner
Comfort is integrated into the DNA of our company
Since the very beginning, we dreamed of creating an environment where everyone would feel comfortable communicating with colleagues and overcoming challenges together. This is integral to Soloway's success.
Our potential employees will work on fascinating projects and have the freedom to make important decisions. We care about our colleagues and provide personal mentorship to help newcomers seamlessly join the team.
We are ready to listen to your wishes for development, working conditions, and other vital issues. Join the Soloway team, and let's achieve outstanding results together!
Find your perfect vacancy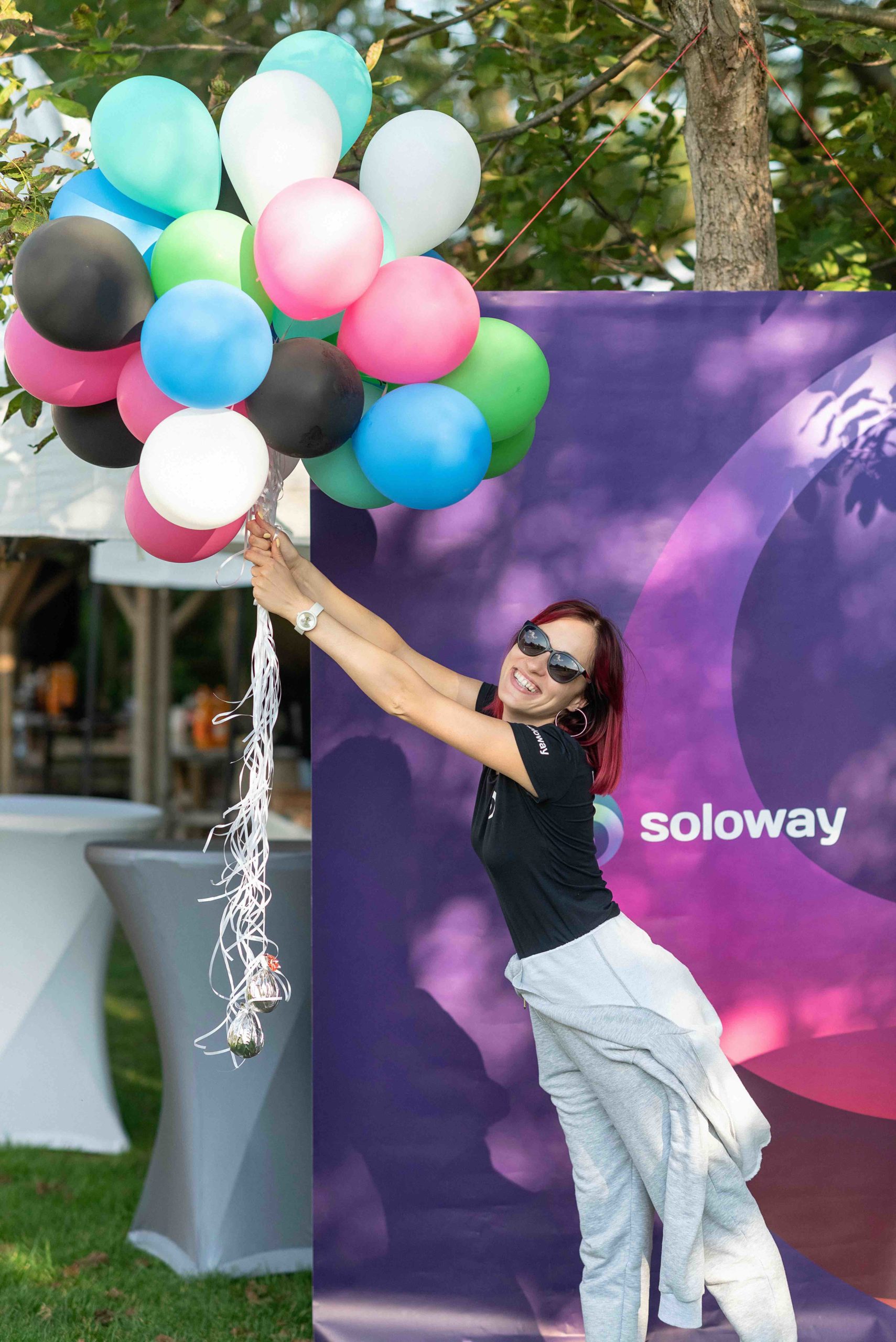 Did not find your perfect vacancy?