In today's fast-paced and highly competitive real estate industry, staying ahead of the curve is essential for success. 84% of real estate professionals agree that CRM systems are crucial for managing their client relationships and business processes effectively. Moreover, businesses that use customized CRM solutions report an average increase of 29% in sales revenue compared to those relying solely on generic CRM platforms.
This article discusses what is a real estate CRM system, must-have features in real estate CRM systems, and examples of real estate CRM systems and applications.
What is a real estate CRM system?
Real estate CRM system is a tool designed to efficiently manage relationships with clients, leads, and other contacts. It serves as a central hub for storing, organizing, and tracking information related to real estate transactions and client interactions.
CRM helps real estate businesses to handle a huge number of clients and provide quality services:
Employees don't have to switch between databases and wait for them to load to see the information they need. Everything is stored in one place.
When requests come in, employees don't have to consider which group to categorize them into. Newcomers have significant difficulties with this. The system itself will offer a solution.
Employees will not forget to call a client or issue an invoice. With the help of the task scheduler, a reminder of the unfulfilled action will come.
Custom CRM for real estate agencies helps to save time for each employee. In addition, the human factor is eliminated. With custom real estate CRM software, you get:
Improved quality of customer service. Now clients won't have to wait long while the manager is looking for the necessary information. In addition, no call will remain unattended.
Preserving data in one database eliminates the possibility of missing information or theft. There is no possibility to create duplicate contacts. The system will not allow it.
Easy access to data. All the information is stored in the cloud. So there will be round-the-clock access to it. And this is important when employees travel a lot.
Developing a custom CRM for real estate is beneficial since it will better suit your specifics, providing more opportunities and flexibility.
Must-have features in real estate CRM systems
Here are the essential features you must look for when building the perfect CRM for your real estate business:
Contact management. A robust CRM should allow you to manage all your contacts effortlessly. We mean organizing contacts of leads, prospects, clients, and partners, including contact details and communication history. It also should categorize them for easy access.
Lead generation. A custom CRM should offer lead-capturing tools, including web forms and integration with online advertising platforms. It should also enable automated lead assignment and follow-ups.
Property management. You must efficiently track and manage properties with features like property listings, photos, descriptions, and status updates. Integration with MLS (Multiple Listing Service) databases is a huge plus.
Communication tools. You can streamline communication with email templates, automated email campaigns, and SMS messaging. Integration with popular email platforms can enhance your outreach efforts.
Task and appointment scheduling. Custom CRM should keep your real estate deals on track with task and appointment management. A good CRM will offer reminders and notifications to ensure you never miss an important deadline.
Pipeline management. You should visualize your sales pipeline with ease. Drag-and-drop functionality for deals and stages should be available, allowing you to track progress effortlessly.
Document management. You should store and manage important documents securely within the CRM. This feature simplifies paperwork and contract management and reduces the risk of lost files.
Reporting and analytics. You must gain valuable insights into your business performance with comprehensive reporting and analytics tools. Customize reports to measure key metrics such as conversion rates, ROI, and agent performance.
Wide integration capabilities. Your CRM should seamlessly integrate with other essential tools you use, such as marketing automation software, accounting software, and your website.
Automation and workflow. You can save time and reduce manual tasks with workflow automation. Your custom real estate CRM should be able to set up triggers and actions to automate routine processes like lead nurturing and client follow-ups.
Developing a custom real estate CRM system can transform your business by enhancing efficiency, boosting client relationships, and increasing your bottom line. With these must-have features, you'll be well on your way to achieving real estate success.
Look for a reliable software development company?
Contact us
Examples of real estate CRM systems and websites
Before creating a real estate website, it is worth paying attention to the interesting functionality of already existing ones:
Zillow app has a well-thought-out filtering system, full-screen photos, and videos.
Realtor.com has a clear and simple interface with a minimalist design. The app features 3D real estate tours, interactive maps, and media content.
Homes.com provides the ability to view photos of properties directly on the map.
Before developing a custom CRM system for real estate, it is advisable to familiarize yourself with the possible functionality and consider popular systems. Popular real estate CRM systems include:
Zoho CRM. It has a set of necessary features – contact management, action tracking, task reminders, segmentation, link building, and email marketing tools.
PlanPlus CRM. It offers users additional features, such as document management and transaction management, in addition to the standard feature set. It helps companies maximize the efficiency of every employee.
CINC. It allows for managing all company communication channels from one system, including landing pages, websites, and mobile applications. It has a complex interface and rich functionality, suitable for professionals.
The main thing is to find experienced software developers to automate business processes with the help of a custom real estate CRM. Our team at SoloWay Tech is ready to fulfill this complex task at the highest level.
Real estate CRM development process in SoloWay Tech team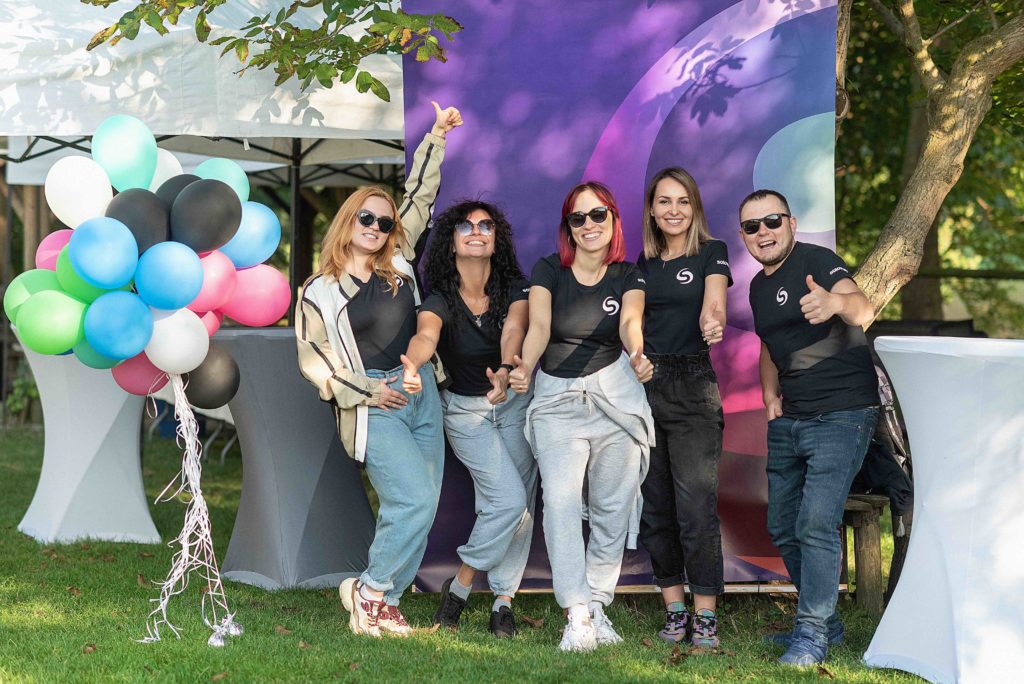 The price and duration of work on the custom CRM software depend on your requirements. The more functions it should perform, the longer and more expensive the development of real estate CRM will be. Our software development company utilizes an individual approach to each client. We divide our work into several important stages.
Discovery phase
First, we study the market, competitors, similar CRM software solutions, peculiarities of your work, and the scale of the real estate business. Analysts make a work plan during the discovery phase for further discussion and coordination.
Architecture design
This is an important stage in the custom CRM development process. At this stage, it is necessary to make decisions about the optimal functionality and synchronization with other apps and websites, as well as to think about the possible connection of additional services in the system.
MVP UI/UX design
CRM system interface should be simple and clear. When developing a custom design, we consider the peculiarities of your business and organization of work. Our designers create a unique style, which will be traced in all software solutions and will be easily recognizable among users.
MVP development
After the design is agreed upon, experienced programmers start working and begin to realize all the conceived ideas into reality. This stage includes programming and testing of all functions, as well as their full synchronization and customization. You receive a modern and convenient CRM system to run your business at a new level.
Conclusion
For the SoloWay Tech team, creating a custom CRM system is not a new task. Our specialists have an impressive experience in the development of such programs for a variety of businesses. We ensure full immersion in your real estate business. So, we:
Create an individual style for your real estate company, favorably emphasizing the features of your business.
Offer a comprehensive software solution for business automation, guaranteeing smooth and synchronized operation of all components.
Can provide technical support for all software products after their launch.
Can maintain the security of the CRM system, install additional software to protect data, create backups, and search for possible vulnerabilities.
Can help develop a marketing strategy and implement the necessary tools and additional services.
We can quickly and efficiently create a CRM system in real estate, considering all your wishes and peculiarities of work processes in your company. SoloWay Tech company has been on the market for over 15 years and has established itself as a reliable and responsible software development partner. Want to develop a custom real estate CRM? We can help you!