E-commerce is growing rapidly, but this growth is not smooth sailing. Logistics is often unprepared for the new requirements and technologies of e-commerce. The path from the "order" button to the transfer of goods to the customer is a complex mechanism, the efficiency of which determines the online store's success. The organization of stock control and delivery plays a key role. Innovations like AI in transportation now arise regularly.
This article discusses components of the e-commerce logistics process, types of logistics management, and challenges facing e-commerce logistics.
What is e-commerce logistics?
E-commerce logistics is a system for managing and organizing the efficient movement of goods, services, and information in online commerce. It covers all processes related to the storage, transportation, and delivery of goods ordered through online platforms.
Components of the e-commerce logistics process
E-commerce logistics is an important element of the e-commerce ecosystem, affecting customer satisfaction, cost savings, and business competitiveness. The main aspects of e-commerce logistics include:
Storage. E-commerce logistics includes managing warehouses where goods are stored before they are shipped to customers. Efficient warehouse management helps to reduce costs and ensure that goods are available to fulfill orders.
Packaging. The process of packaging goods to ensure their safety during transportation is very important. Effective packaging can reduce the risk of damage to goods and increase customer satisfaction.
Transportation. The organization and execution of the process of delivering ordered goods to customers must be managed. This can include various shipping methods such as post, courier services, air freight, etc.
Operations. This includes tracking orders, managing inventory, processing payments, and ensuring returns are handled.
Technology and information systems. You need to use specialized software tools to manage logistics, automate processes, and ensure effective communication between all participants in the supply chain.
E-commerce logistics is a complex process that requires well-established cooperation between online retailers, suppliers, logistics companies, and other parties. Its effective implementation helps ensure fast and reliable delivery of goods, which is essential to maintain customer satisfaction and develop a successful e-commerce business. This is why transportation companies constantly integrate innovations like blockchain, AI, and IoT.
Types of logistics management
Depending on the nature and scale of the company's activities, different types of logistics management can be distinguished. The main ones include:
Inbound logistics. It is focused on managing the logistics processes of the company's internal operations. It includes inventory management, production planning, assembly line management, quality control, and other processes related to producing goods.
Outbound logistics. It focuses on optimizing the activities related to the distribution of products from manufacturers to end customers or retailers. This includes managing warehouses, transportation, packaging, delivery, and order processing activities.
Reverse logistics. It focuses on circulating and processing returned goods or handling the reverse flow of materials and packaging. This is important for managing customer returns, processing defective goods, or recycling.
International logistics. It focuses on optimizing the transportation, storage, and handling of goods in international supply chains. This type of logistics management faces challenges related to customs formalities, cultural differences, and different laws and regulations in different countries.
These are some of the key types of logistics management. Each type comes with its own set of challenges and requires specialized knowledge and expertise to optimize the flow of goods and services in a given context.
We'll be happy to create something awesome for you
Contact us
Challenges facing e-commerce logistics
E-commerce logistics can face various challenges as it is a complex and dynamic process. Some of the major challenges faced by e-commerce logistics include the following:
Order processing and shipping. Due to the growing popularity of e-commerce, businesses must efficiently process large numbers of orders and ensure timely delivery. This can place increased demands on warehouse management and delivery systems.
Systems integration. Efficient logistics requires integrating various systems such as order management, inventory management, cargo tracking systems, freight forwarder systems, etc. Maintaining compatibility and synchronization between these systems can be challenging.
Route optimization. Ensuring delivery efficiency means finding optimal delivery routes that reduce transportation costs and shorten delivery times. Various factors must be considered, such as road conditions, traffic, and order volume.
Reverse logistics. Handling returned goods is a complex process, as it involves checking the condition of the goods, returning them to the warehouse, storing them, and, if necessary, sending them back to the supplier or manufacturer.
Taxes and customs restrictions. International e-commerce may face different tax rules and customs restrictions, which can complicate border-crossing processes and affect delivery times.
Maintaining the quality of goods. Some goods, especially food and bulk goods, require special storage and transportation conditions to maintain their quality and safety. This can create additional challenges for logistics processes.
Customer expectations. Customers are becoming increasingly demanding regarding delivery time, service quality, and convenience. E-commerce logistics must meet these expectations, which may require continuous process improvement.
At SoloWay Tech, we can help you cope with any e-commerce logistics challenges. Let`s discuss our expertise and success stories.
Success stories: how Soloway Tech transformed logistics systems for businesses like yours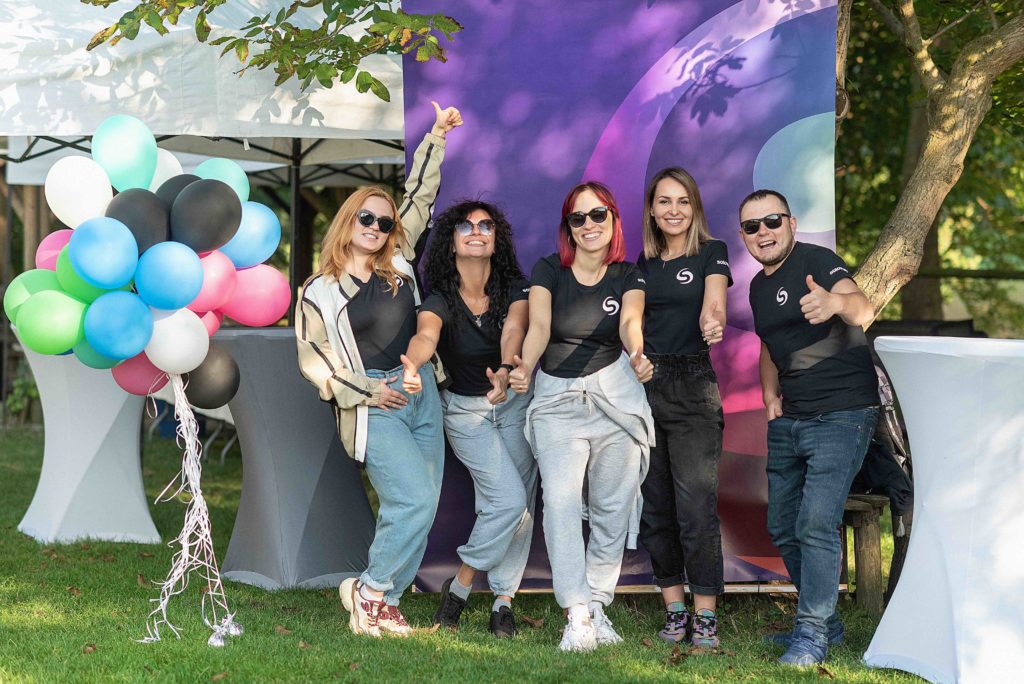 We at SoloWay Tech are a passionate team of diverse professionals with years of experience. For over 15 years, we have transformed 800+ businesses and satisfied over 500+ clients. Our median NPS score is 60, which shows our value as a reliable IT partner. In the logistics industry, we're experts in:
Discovery phase and IT transformation approach
Web platforms development and modernization
Application development and modernization
Software support and maintenance
Innovative technology-based solution integration
Now we want to discuss our 2 case studies in the logistics and transportation industry.
Logistics System
Logistics System is a complex project that automatizes the logistic processes of the agricultural corporation. It also helps to use the company's available resources as effectively as possible to increase efficiency.
This project aimed to develop a unique system for building the most optimal routes for the milk tanks to optimize the process of gathering milk from the farmers. The idea was to help to eliminate costs, manage all transport remotely, and simplify the organization of all working processes of the corporation.
The complexity of this project was in developing a smart algorithm for building the optimal route for milk tanks, considering many different factors. These factors include the volume of sections of milk tanks, planned volume of milk for each working shift, time for collecting milk, location of the farmers, refrigerators, factories, and other participants of the working process, etc. We have developed special mathematical formulas for the implementation of this functionality.
As a result, we build a system providing optimal routes in a real-time mode. This solution has caused noticeable changes in the efficiency of an agricultural company within just a month of its implementation.
Navizor
Navizor is a service for assessing the road surface's condition and planning trips on the roads with a high-quality covering.
Scaling Navizor when there was an extreme increase in users from different countries was challenging. There was an intense load on the servers and databases. The realization of navigation functions in mobile applications was also not easy.
As a result, we created the first in the world mobile navigator, which allowed planning the routes considering the quality of the roads. It also warned drivers about dangerous areas of roads. We have developed an intelligent algorithm for calculating the quality of the road covering.
Conclusion
E-commerce logistics plays a crucial role in the success of online businesses, influencing customer satisfaction, cost savings, and overall competitiveness. The efficient movement of goods, services, and information is essential for maintaining a smooth and seamless experience from the moment a customer clicks the "order" button to the delivery of their purchased items.
At SoloWay Tech, we have a track record of transforming logistics systems for businesses like yours, ensuring streamlined operations and successful outcomes. Our expertise and success stories demonstrate our ability to effectively tackle various e-commerce logistics challenges.