SoloWay team actively visits tech conferences to gain new contacts, partners, and insights into the development of the IT industry. Any company or person involved in the tech industry should be proactive regarding conferences.
We have created a tech event calendar for 2023 to help you be aware of worthy events. It can be downloaded in PDF format with clickable links to the events.
Benefits of attending tech events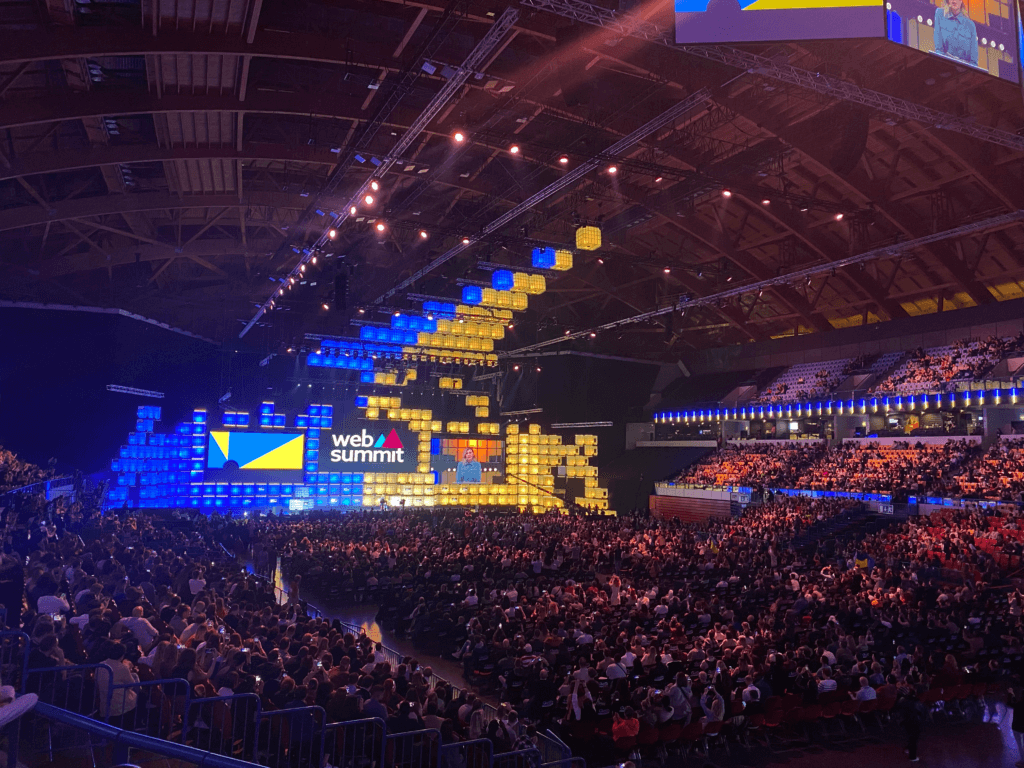 Every year, dozens of tech conferences, festivals, and forums are held worldwide for IT professionals. Here are 4 main benefits of visiting tech events.
Exploring the IT environment and current reality
Any conferences and forums are primarily used as entry points to the professional environment. From this point of view, they are valuable both for beginners and professionals. A person gets an opportunity to look around, to see segment leaders and nearest competitors, to understand who is a significant figure on the market, to listen to who, and to follow. Professionals interested in offering their services to someone can study potential clients and their levels, requests, and moods.
Networking
Tech events are always about communication, making new connections, maintaining old ones, and increasing visibility. The target audience, colleagues, and those one step above, whose experience is worth learning can gather in one place. You get into a community with the same interests, preferences, and problems. The more informal the type of event, the easier it is to network. This is usually done by combining an IT conference and a festival or exhibition format.
Building marketing
A conference is an excellent way to PR for a company or a startup. Especially if the program includes an exhibition, where you can buy a stand and hold a presentation of a product or service on it. This increases recognition of the company or specialist and its expertise in a professional environment, especially if it will not only be at the stand but also speak somewhere. Media representatives always attend large IT conferences – the event is covered in print media and on television. This is a chance for any company to be featured in the conference results and thus increase the weight of its brand and become more attractive to potential partners and employees.
Getting new knowledge
You can get new knowledge from every tech conference thanks to the speakers. They talk about experience, research of real cases, and technologies, which the participant can later apply in their work.
SoloWay Technologies' success at Web Summit 2022
The SoloWay Technologies team was at the Web Summit 2022. It is the largest technology conference in the world. So, when planning a trip to Lisbon, we at SoloWay Technologies set ourselves several ambitious goals:
To find new partners. 70 000 participants are potential leads. We understood that the more contacts, the more chances to get customers, thus increasing the company's revenue and attracting funds to Ukraine.
To present the business. Our company's participation in a world-class conference is a massive aid for our recognition.
To get acquainted with market trends. Speeches by industry leaders and the exchange of experience with colleagues make it possible to be among the first to find out what to expect in the technology sector shortly.
Get inspired by new ideas. Web Summit offers the maximum concentration of concepts, strategies, and innovations that can be implemented in our business.
We succeed at Web Summit 2022 and thus have planned to visit more IT conferences in 2023.
Ready to turn your business idea into reality?
Contact us
Upcoming tech events and conferences
Now we want to introduce you to tech events you should consider in 2023. We describe the most beneficial IT conferences for each month from our point of view.
April
Startup Grind | Global Conference 2023 (11-12.04). The conference features keynote speeches, fireside chats, and panel discussions on entrepreneurship, innovation, and technology.
Node Congress 2023 (14.04 & 17.04). This annual conference features talks and workshops by leading developers and experts in the Node.js community.
TradeTech Europe (17-19.04). IT companies focusing on financial technology should attend it to learn about the latest trends and innovations in the trading industry.
World Summit AI Americas (19-20.04). The event features presentations, panel discussions, and workshops on AI ethics, data privacy, and emerging applications of AI and ML.
RSA Conference San Francisco (24-27.04). The event features presentations, panel discussions, and workshops on data privacy, threat intelligence, and risk management.
Running Remote (24-26.04).IT companies should attend it to learn how to manage remote teams effectively and efficiently.
AI Accelerator Summit (26-27.04). The event features presentations, panel discussions, and workshops on AI innovation, NLP, and computer vision.
Developer Week 2023 | Europe (26-27.04). The event features presentations, workshops, and hackathons on cloud computing, mobile development, and open-source technologies.
May
The 2023 payments Canada summit (03-05.05). IT companies should attend it to learn about the latest advancements in payment technology and explore potential collaborations and partnerships with other companies in the industry.
Rise of AI Conference 2023 (09-10.05). This conference is focused on AI and ML, allowing participants to get valuable connections with big players.
Vue.js Live Conference (12.05 & 15.05). IT companies should attend the Vue.js Live Conference to learn how to use the Vue.js framework effectively and efficiently in their web development projects.
Conversational AI Summit (16-17.05). This conference is focused on artificial intelligence and machine learning for building conversational interfaces.
ACE! Conference (18-19.05). It focuses on architecture, engineering, and construction technology.
Render ATL 2023 (31.05-02.06). It is focused on web development and design.
June
AIBC Americas (14-18.06). The event features presentations, panel discussions, and workshops on DeFi, NFTs, and the future of blockchain technology.
React Summit (02-06.06). It focuses on the React JavaScript library and includes various topics related to front-end development, such as performance optimization, state management, and UI design.
Integrate 2023 (05-07.06). This conference is dedicated to enterprise integration, cloud computing, and digital transformation and offers a mix of technical sessions, case studies, and vendor exhibits.
PlatformCon 2023 (08-09.06). It explores the latest trends and best practices in platform design and management.
Verint Engage 2023: The Art of Innovation (12-15.06). It is a customer engagement conference that showcases new ideas and technologies.
VivaTech (14-17.06). It is a large-scale technology conference that hosts speakers from the tech industry, government, and academia.
Bits & Pretzels HealthTech 2023 (20-21.06). It is a conference that explores the intersection of technology and healthcare.
2023 IEEE Transportation Electrification Conference & Expo (21-23.06). This IT event covers battery technology, charging infrastructure, and vehicle electrification.
July
Vid Con Sao Paulo (07-09.07). It is a conference dedicated to content creators and online video platforms.
VSLive! Microsoft HQ (17-21.07). It is a tech conference focused on Microsoft technologies and software development.
AIBC Asia (19-22.07). The conference focuses on blockchain, AI, and other emerging technologies.
THAT Conference (24-28.07). It focuses on software development, DevOps, and cloud technologies.
ProductCon Online 2023 (20-21.07). It is an online conference focused on product management, featuring talks and workshops from industry experts.
August
Ai4 2023 (07-09.08). The conference focuses on AI and its healthcare, finance, and retail applications.
Seattle 365 EduCon & PWR EduCon – 2023 (21-25.08). Two educational technology conferences feature workshops, keynotes, and presentations on EdTech startups, online learning, and technology integration in education.
CIO Edge (30.08). It is a conference for CIOs and IT executives featuring keynote speakers, panel discussions, and networking opportunities.
September
SPIE Sensors + Imaging 2023 (03-06.09). IT companies should visit this event to learn about the latest advances in sensors and imaging technology and explore opportunities for collaboration and partnership with other companies in the industry.
AIBC Balkans & CIS (04-07.09). This conference provides insights into the latest trends and emerging technologies in blockchain, AI, and other areas.
CEDIA Expo 2023 (07-09.09). This event provides insights into the latest trends and innovations in home automation, smart home technology, and home theater systems.
Big Data LDN 2023 (20-21.09). The latest big data, analytics, and AI news are discussed here.
5G Expo Europe (26-27.09). This tech event is a treasure trove for those working with 5G technology.
October
QCon San Francisco Software (02-06.10). This conference focuses on software development and emerging trends, emphasizing delivering software at scale.
Ad Filtering Dev Summit (04-05.10). This conference focuses on ad filtering and how to implement ad-blocking technology in web browsers and applications.
The World`s Leading AI Summit (11-12.10). This conference focuses on the latest trends and breakthroughs in AI, featuring keynote speakers from top technology companies and research institutions.
November
Web Summit (14-18.11). It is the largest technology exhibition in the world. Presentations are devoted to marketing, AI, VR/AR, Big Data, social networks, cybersecurity, cryptocurrency, startups, and more.
Product-Led Summit Sydney (01-02.11). It is a conference focused on product management and building products designed to be customer-centric. It brings together product leaders from various industries to share their insights on product strategy, customer acquisition, and retention.
AI & Big Data Expo Global 2023 (30.11-01.12). The conference is focused on the latest developments and trends in artificial intelligence, big data, and analytics.
Cyber Security & Cloud Expo Global 2023 (30.11-01.12). It brings together industry experts, practitioners, and thought leaders to discuss the latest trends, best practices, and solutions for securing data and cloud environments.
IoT Tech Expo Global 2023 (30.11-01.12). This conference is focused on the latest developments and trends in the Internet of Things (IoT) industry.
December
DevTernity (07-08.12). It is a software development conference that focuses on delivering high-quality software and strongly emphasizes technical excellence, software craftsmanship, and agile methodologies.
LATAM Cybersecurity Conference (14.12). This conference focuses on cybersecurity issues in Latin America, with speakers and attendees from both the public and private sectors, including cybersecurity experts, IT professionals, and government officials.
---
Stay up-to-date on the latest tech conferences and meetups with our easy-to-use Tech Event Calendar in PDF format that includes direct links to each event – download it now!
---
Conclusion
All 4 components of benefit are present in every technological event, but often the strongest are 1-2, for example, networking and industry insights or networking and marketing. Combinations can be any. However, in any case, the IT event brings practical benefits to both speakers and participants, regardless of their professional level.
If you plan to attend any conferences above, just contact us. We will be glad to talk with you.