Internet sales continue to increase steadily, accounting for 14.3% of all retail sales globally. Moreover, eMarketer predicts that online will account for 23% of global retail sales by 2023. It means businesses are looking to start or extend their online presence!
Among the various web building options available in the modern web design niche, the use of CMS remains objective to meet the needs of various user categories. Content Management Systems (CMS) are powerful programs offering a wide range of web design tools required to start and manage any project effectively. Websites built with CMS typically stand out from the crowd due to their appealing one-of-a-kind contemporary design, advanced performance, and ability to perform various tasks.
We cover the CMS, its types, and eCommerce solution to assist you in going viral. Let's get started.
What is an eCommerce content management system (CMS)?
A content management system (CMS) is software to manage website content without writing any code. With a CMS, users may concentrate on the front-end aspects of website creation, such as changing the design and managing content.
A CMS allows you to design and manage websites and content with minimum technological overhead, focusing on creating better content rather than functioning as a project or traffic manager. A CMS helps businesses to manage and share their content without investing in a full-time content production team by providing an easy and cost-effective alternative for content management.
The point is: CMS is one piece of software that can handle everything.
When a business or organization already has a website, they can use a CMS to update the website with new content without requiring the technical expertise of a web programmer.
But what are the types of CMS, and which one suits your company? Keep reading
Types of CMS
A SaaS CMS does not require a separate server. You can pay a monthly fee in exchange for not having to download anything, maintain upgrades, or set up data storage – the software provider handles it all. 
BigCommerce and Shopify are SaaS CMS platforms.
Open-source eCommerce system provides complete control over the functioning of their websites. It implies that shop administrators are in charge of determining the hosting for their eCommerce website, maintaining the server, and implementing software upgrades. 
Magento is an open-source eCommerce application.
Cloud CMS is a pre-built system used without the need to download hardware or software. Companies may securely manage online material in the cloud and have it quickly available from different devices.
A headless CMS is a back-end system that connects to a database and saves content via a custom-built front-end web application.
That is an excellent choice for businesses that want total control and flexibility over how their information is accessed. It allows for content storage and management and a bespoke application on the front end—a website, a mobile app, or another front-end.
Main benefits of CMS
Ecommerce sites that generate fresh material regularly — whether for the blog or as part of the homepage and product page changes — would benefit the most from CMS flexibility. If your business needs frequent, real-time content changes, you may create the content with a CMS platform. But what are the other benefits?
Successful eCommerce businesses know that exceeding consumer expectations promotes revenue development. One day, you won't be able to keep up with the speed and agility to keep your website.
You may reduce development time and update the website on your own using an easy-to-use CMS. Finally, you can save time and invest development expenses on other marketing projects that will move your organization ahead.
Do you get nervous when you think about altering information on your website? One of the best aspects of current content management systems is that they are extremely user-friendly and do not require technical knowledge. It means that you or your team can simply handle all content and product changes on your own, allowing you to accelerate marketing campaigns and promotional activities.
Facilitating team cooperation is critical for efficient content creation. It serves as a central repository for material and enables automated procedures for collaborative digital content management and production through built-in (or created) workflows.
Reaching the potential consumers
Content should be high on your priority list as one of the most successful marketing strategies for boosting organic visitors. In the digital era, companies cannot stand by generating content for social media platforms like TikTok, Facebook, and Instagram. Creating useful and targeted content will increase your store's exposure on Google, bringing more customers to your site and increasing sales.
It seems to be persuasive, isn't it? If you are ready to use CMS for your online store
Contact us
How a CMS works, and how to use it?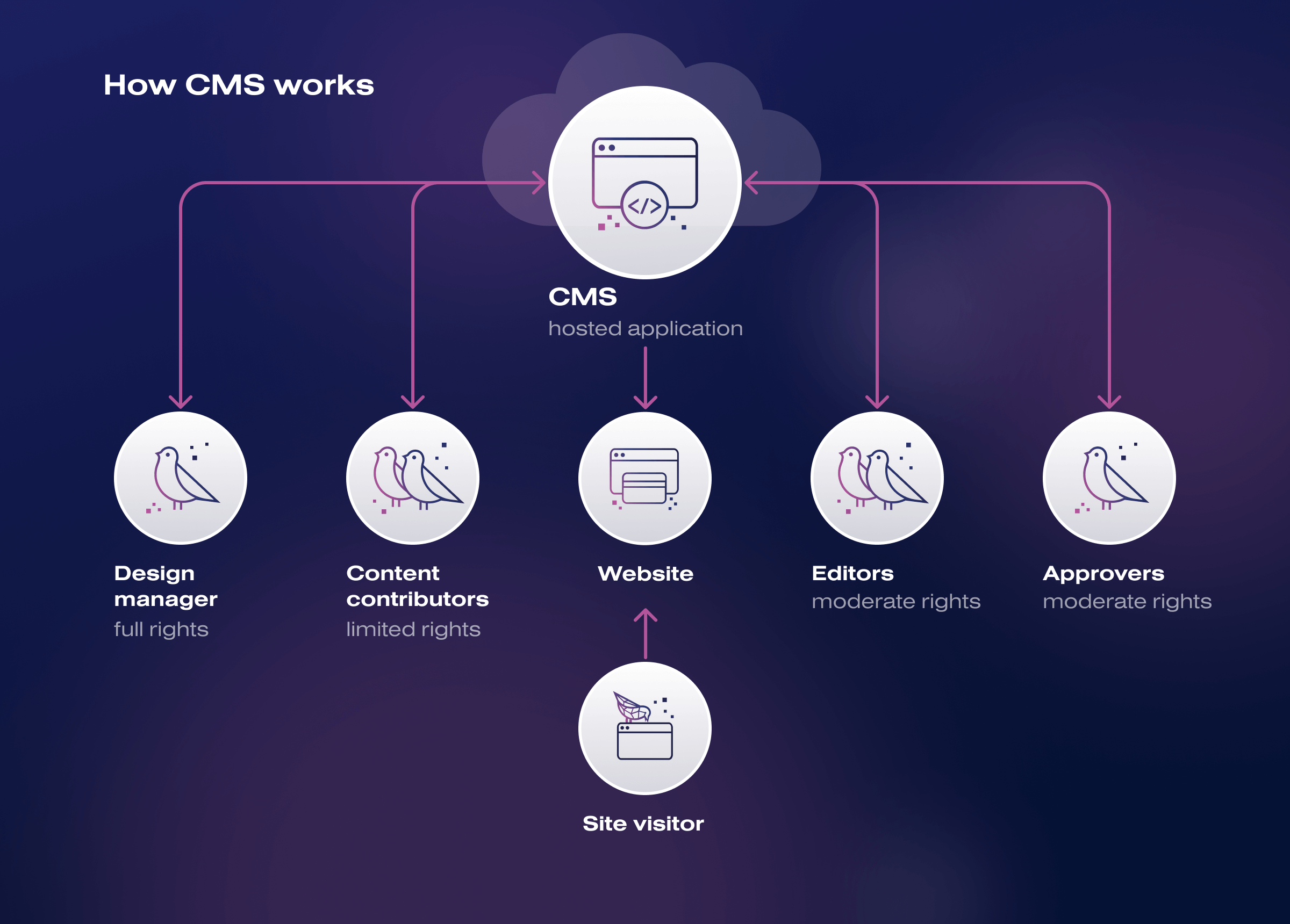 To know how to use CMS, first, get what it is like to design a website from the ground up. Importantly, start with HTML and work your way up to adding visuals, text content, navigation bars, and other elements. Then you'd use CSS to customize those elements to fit your brand's style.
Lastly, you may add more advanced functionality by JavaScript, such as slide-in call-to-action buttons. That HTML file will be uploaded and stored.
To make changes, even basic ones like changing content, you must download files from the server, open them, and manually update the HTML code. Then, before sending the files back to the server, check you didn't break any links or do anything else.
The background of CMS
CMS is made up of 2 components: 
a content management application
a content distribution application.
These programs handle all the coding, database queries, and infrastructure at the back end, allowing you to focus on the front end of your site.
CMA
To make further changes to your site, such as modifying the permalink structure or adding extensions, simply go to the relevant section in your admin panel. All of these modifications are done through an easy-to-use interface that conceals the code from you, the end user.
CDA
When you're through editing, the CDA will take the information you placed into the CMA, build the code, show it to your front-end visitors, and save it. Instead of manually uploading a page to your server, you can just press the Publish button to publish a new blog post.
Now that we know what a CMS is, how it works, and how to use it, let's look at why CMS is preferable to develop a site from scratch or use another website-building tool.
How to choose the best eCommerce CMS solutions for your online store
Marketing teams are struggling to find the appropriate Content Management System. This is especially true for users who have never worked with these platforms before and are thus unaware of their parameters and major characteristics.
A good CMS platform should include tools that allow you to export and move your data.
There are costs associated with each CMS. Some are open-source and free, but you must pay to host them. Others may require you to purchase the software from the company that created the CMS.
You want a CMS that allows you to easily create, add different elements, and edit content.
You can have many questions or issues, even when CMS platforms are designed as simply as possible. Find out what kind of support is available if you get stuck.
The software you choose must provide you with the tools you need to rank in Google and other search engines.
To simplify your job, find out whether CMS software has design templates for any type of business. It should also allow you to easily customize those designs to meet your needs (ideally without writing code).
BigCommerce
BigCommerce offers solutions for B2Bs, wholesale eCommerce stores, cross-channel commerce, and international selling. With various built-in features and CMS capabilities, the BigCommerce platform is robust and straightforward enough to support the expansion of rapidly increasing eCommerce firms.
The platform is well-known for its excellent SEO integration and versatile APIs, which allow merchants to connect to top software and other CMS solutions while utilizing the BigCommerce shopping cart on the backend. 
Pros
Free domain name, or you may pay for a custom domain name.
Payment methods are available such as PayPal, Apple Pay, and Amazon Pay
Support is available directly from your dashboard, 24 hours a day, seven days a week.
Cons
Less control over your content management
Few themes and connectors available may prevent you from using a third-party solution to build your business.
automatically upgraded to the next level of the price plan.
WordPress is the most used content management system globally, powering 38% of the Internet. Because the open-source platform's emphasis on editorial services such as article and blog posting is frequently utilized in publishing and blog-friendly sectors. It may be excellent for smaller firms just developing their online strategy or having less design knowledge because its interface and website themes are relatively simple to utilize.
Pros
The price is adaptable to needs and budgets.
Free WordPress themes and fantastic plugins.
Cons
Plugins and themes are not all reliable or high quality.
But if you're a tech web editor or developer looking to customize your site, WordPress offers a variety of plugins and other customizing options.
Lack of specialized support; instead, forums, tutorials, and documentation are used.
Magento
Magento is a well-known open-source content management system (CMS) for eCommerce solutions. It is owned by Adobe and services over 260,000 online retailers worldwide. Magento has extensive functionality, a varied extension marketplace, and connections with CRM, ERP, chatbots, and other enterprise-level technologies.
Pros
Managing several stores in diverse locales, each with its language and currency
Mobile-friendly
Cons
hard to setup and customize
time-consuming to customize the design and list the items.
Shopify
Shopify is a website builder and content management system in one, with built-in payment processing for online sales. The software includes capabilities for developing a brand, selling on social media, selling through online marketplaces, and processing in-person sales using Shopify POS.
The platform is simple and does not require coding or development skills. Shopify allows you to create and manage e-commerce content if you know how to use the web.
Pros
accept credit using an integrated payment system.
Shopify extensions and themes are available.
24 hours day support by live chat, email, phone, and even Twitter.
Cons
Price can quickly pile up, adding many third-party apps to your store
some functionality is just not accessible.
Open Cart
OpenCart is a free and multipurpose open-source content management system for eCommerce. It includes a robust plugin marketplace and many templates for easy setup.
OpenCart supports over 20 payment channels as well as eight delivery methods. It's a popular choice among novices on a tight budget because it's an eCommerce CMS with no monthly costs.
You should be aware that there are numerous CMS website builders available. However, only a few services are worth considering if you want a good result that meets your needs, specifications, and budget. 
How to build a website with a content management system
If you're ready to use a CMS for your web design project, follow the process to ensure its success.
Select a platform
Choose the CMS that best meets your needs and expectations before starting a website.
Consider domain 
Your website's domain name should be distinctive, concise, and easy to remember. It should not be long – the main criteria are brand-related, niche-relevant, and SEO-friendly. Take your time selecting yours.
Evaluate hosting
Before implementing the system, consider your hosting options. Keep in mind that not all CMS has built-in hosting solutions. Some give for flexibility because the range of hosting providers is rather great.
Set up the CMS
The following step is to install the platform of your choice. The installation procedure is generally simple, quick, and straightforward, taking only a few minutes.
Install the plugins 
CMS needs plugin installation, it seems sensible to do it immediately. Plugins extend the capabilities of your project. You can do without them if you don't intend to start a full-featured, complex project.
Design 
When you've finished installing plugins, it's time to choose an appropriate theme and modify your website's look. Each CMS has design customization tools that allow you to build and change web pages, add logos and menus, design website layouts, and so on.
Insert content
You may begin adding the content when you have finished customizing the web design. Most themes include pre-designed content that is relevant to the niche. You may customize the project by replacing the content with your information.
Go viral. 
The final phase entails the publishing of the website. Don't forget to fill out SEO settings and link the analytics system to watch your website's success afterward.
Conclusion
The need for digital marketing experiences continues to rise and shows no signs of abating. Modern consumers expect omnichannel solutions and frictionless experiences. Companies can communicate with their consumers and stay linked in infinite ways thanks to digital technology. It's no surprise that the CMS market is predicted to increase to $123.5 billion by 2026.
A CMS not only stores all of your online material in one place but also allows for team collaboration, quick and easy changes, and offers themes and plugins to customize your site.