Even high-end real estate investments can quickly become a source of headaches rather than profits without an effective real-time monitoring system. Property management software (PMS) solutions are gaining prominence to avert this undesirable outcome. By 2027, the global market for property management software is expected to surpass $3 billion. This compelling growth potential shows the real value of (PMS).
This article discusses property management systems (PMS) for real estate and hospitality as well as technologies and tools for PMS development.
What is a property management system (PMS)?
Property Management Systems (PMS) is software designed to make managing properties easier.
Versatility is the hallmark of the property management system (PMS), serving a wide spectrum of properties, whether they are residential, commercial, or fall somewhere in between—ranging from cozy vacation homes to meticulously managed HOA communities.
Property management systems prove their worth not only in real estate but also in the dynamic world of hospitality. In the latter, these software solutions perform a parallel but distinct role, empowering hospitality managers to efficiently navigate the intricacies of their daily operations within hotels and resorts.
This article will cover both property management systems (PMS) for real estate and hospitality.
Property management system (PMS) for hospitality business
PMS helps hoteliers to competently manage all working processes: control reservations, allocate staff, work with electronic locks, provide data to the stakeholders, and receive reports on activities at any time. Analysis of data generated by PMS allows for timely adjusting the sales strategy and increasing room utilization, which will positively impact revenues.
Advantages of property management system (PMS) for hospitality business:
PMS will quickly calculate the amount of the resort fee
In one click, PMS will help generate data for guest registration
PMS collects guest data by status
PMS analyzes income and expenses
In real-time, PMS will show the status of the room inventory
You will no longer have to spend time manually processing rates and seasonal offers as the system can update rates on the website and all online platforms automatically
Managers will see from which booking services guests are coming
PMS is a full-fledged hotel management system that allows you to significantly speed up all internal processes.
PMS capabilities for hospitality business
A satisfied guest is one of the main goals for hotels. The impression of a hotel is formed from the moment a guest arrives at the front desk. Staff should be friendly, and rooms should be clean. PMS lets you see the rooms booked and their readiness to receive guests in real-time. The data on cleaned and uncleaned rooms is reflected in an online checkerboard. You can also give additional instructions to maids, check payment information, and mark early or late check-out so guests don't have to wait in the lobby for check-in.
Hotel reservation services are a significant source of sales for many hotels. PMS helps to fully automate the work with such online platforms as Booking.com. Some PMS systems allow you to manage sales on over 10 booking sites in a single window. PMS records reservations from all services, and the reserved rooms are automatically removed from sale on the other online platforms. When a reservation is canceled, it disappears from the PMS and returns to the platforms like Booking.com. Thus, the system eliminates overlaps caused by a human factor and saves time in making reservations.
Another advantage of PMS is managing the hotel's electronic locking system. Guests will receive keys to their rooms in just 30 seconds. They will not have to switch to another program to activate the keys. At the same time, the staff will see the status of issued cards at any time. The system will show how many keys were issued and how many were handed in after departure.
Reports on hotel activity will not have to wait: the system will generate data according to the set parameters at any moment. Reports on the required areas of hotel operation can be generated even for a week, a month, or a year. Data analysis will clearly show which sales directions are effective and where the strategy should be adjusted. Look for a reliable IT partner with expertise in hospitality solutions? We are here to help you!
Property management system (PMS) for real estate business
Property Management Systems (PMS) are designed to support companies in real estate management and operations. It simplifies real estate operation and maintenance tasks, as well as the management and operation of premises, buildings, and structures of any purpose.
PMS is a unified system for implementing management decisions related to the formation, use, disposal, and ownership of real estate objects in various aspects of the company's activities. The system allows the company to form a complete database of information about real estate objects, with the possibility of further actualization.
Advantages of property management system (PMS) for real estate business:
PMS software automates various tasks, such as rent collection, maintenance requests, and lease renewals
PMS systems often include communication tools, allowing property managers to easily and efficiently communicate with tenants, owners, and maintenance staff
PMS can create and track maintenance requests, ensuring that issues are addressed promptly
Property managers can access valuable data and analytics through PMS systems
PMS systems can help property managers stay compliant with local and federal housing laws and regulations
A well-implemented PMS can improve the overall tenant and owner experience
Property management software is a full-fledged real estate management system that allows you to significantly speed up all internal processes.
PMS capabilities for real estate business
Large amounts of information characterize the real estate business. It is related to the possession, use, and disposal of property of many objects and subjects of relations.
PMS provides accounting and monitoring of property objects. This allows you to automate business processes for keeping the property register, equipment characteristics, use of property objects, and reporting. This also allows you to make selections according to the set parameters and control terms, as well as to save and maintain the history of changes. Constant updating of information on the quantity and quality of various categories of property objects allows for real-time controlling changes.
The property management system (PMS) allows you to automate all major management operations. We mean the conclusion and tracking of contracts, contacts with tenants and contractors, performance of ongoing work at the facility, etc.
To organize real estate management, a property management system (PMS) unites all databases and directories related to the objects in a convenient format. It includes contacts and data on tenants, service providers, used areas, assets, funds, and employees.
Using efficient DBMS, cloud and network technologies, mobile interface for data access, and other modern architectural solutions, property management system (PMS) provides high speed and efficiency.
Look for a reliable development team with experience in real estate solutions?
We can help you!
Why outsource property management software development to SoloWay Tech?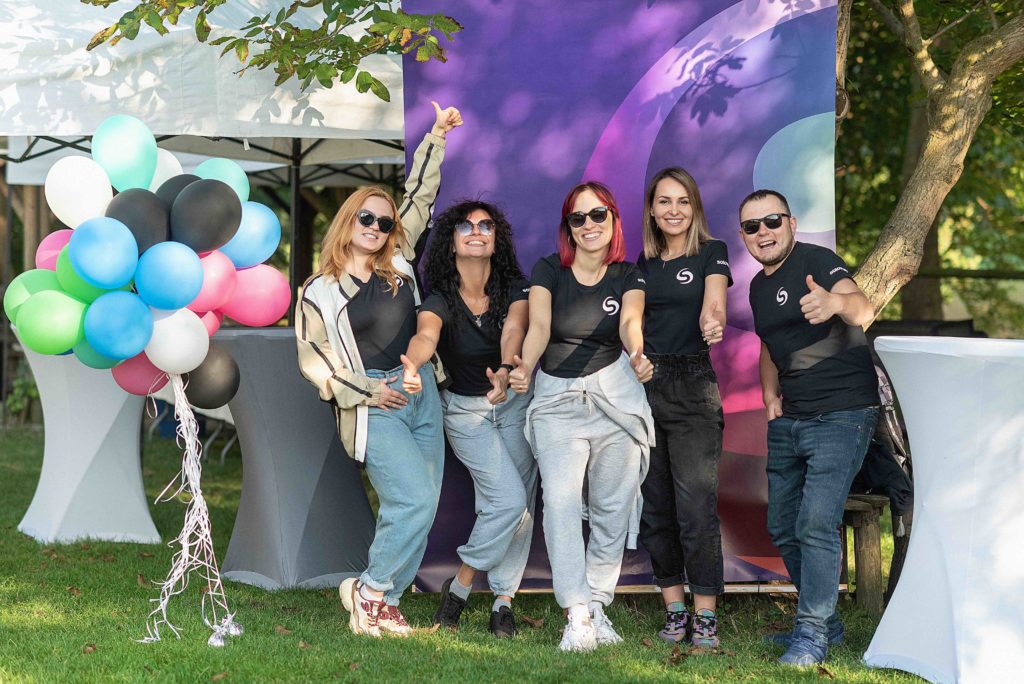 Outsourcing PMS development is a strategic decision that many real estate and hospitality businesses make to access specialized expertise and resources. Our SoloWay Tech team consists of renowned software developers from Ukraine with experience in over 10 industries. We worked with projects in the following industries: eCommerce, manufacturing, eLearning, real estate, hospitality, and more. Our advantages:
Cost-efficiency. At SoloWay Tech, we can provide skilled developers and project managers at competitive rates, reducing your overall development costs.
Scalability. We can quickly scale our team and resources to match the size and scope of your project. Whether you're a small property management firm or a large real estate conglomerate, we can easily adapt to your needs.
Speed to market. We can start working on your project immediately, reducing time-to-market for your PMS solution.
Access to advanced technology. Our team keeps up-to-date with the latest technologies and trends in property management software. We can provide you with state-of-the-art solutions, helping you stay competitive in the market.
Flexibility. SoloWay Tech offers flexibility in terms of engagement models. We can accommodate your preferences whether you need a dedicated development team or a one-time project.
Diverse talent pool. Outsourcing to our team gives you access to a diverse, skilled talent pool of Ukrainian developers. Your project will benefit from a broad range of experiences and perspectives.
Outsourcing property management software development to SoloWay Tech can be a strategic move to harness the expertise, drive cost-efficiency, and ensure the success of your software project. Our experience, industry knowledge, and commitment to quality make us a valuable partner for real estate and hospitality businesses. Feel free to contact us to discuss your project!
Conclusion
Property management software has emerged as a powerful catalyst for innovation and efficiency in the real estate and hospitality industries. This article has delved into the pivotal role that software development plays in transforming the way properties are managed, guests are served, and businesses are run.