In 2024, WeChat Mini Programs will remain a hot topic in China's e-commerce ecosystem. WeChat covers more than 1 million WeChat Mini Programs. It is half the size of the Apple Store. The exponential growth in user spending within WeChat mini programs, with a staggering 160% increase from the previous year, highlights their rapid adoption and compelling appeal.
We discuss why people use WeChat Mini Programs when there are native apps, that can add Mini Apps to WeChat, and why WeChat needs Mini Programs.
What is a Mini Program?
Mini program is an app up to 10MB with a simplified interface and a limited set of features compared to native apps. They offer the same services as regular apps (shopping, ordering food, renting transportation, entertainment, and more) but exist only within WeChat.
Like native apps, Mini Programs have their own store inside WeChat. People can also find them by scanning a QR code placed, for example, on the door of a restaurant. Frequently used Mini Programs are fixed on the top bar inside the chat room.
A few Mini Programs from partners are separate and located next to the services of WeChat itself. Frequently used Mini Programs for instant access are fixed on the top panel inside the chat.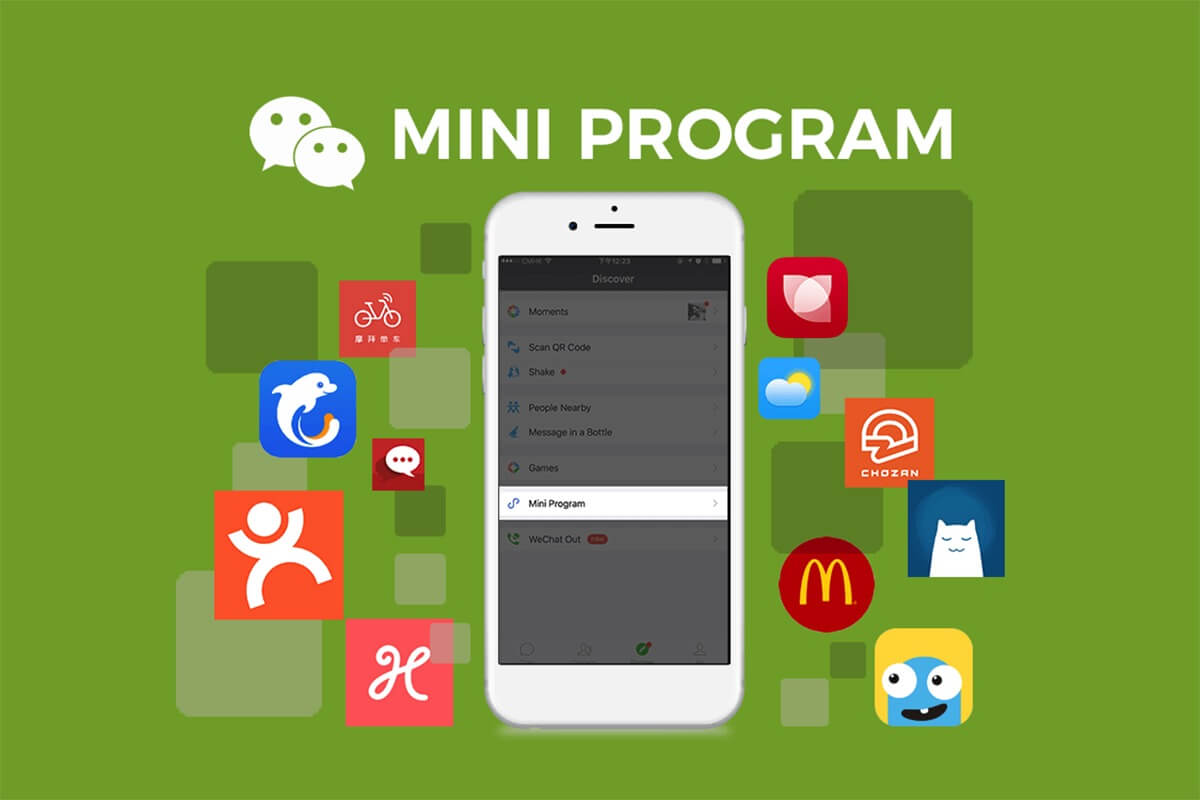 Why do people use WeChat Mini Programs when there are native apps?
Mini programs don't need to be installed on your device. They are downloaded in seconds within WeChat. This helps to save traffic for users from small Chinese cities where not everyone has access to Wi-Fi networks.
Registering in Mini Programs is unnecessary as the login is done through a WeChat account. All purchases are made instantly through the WeChat Pay payment system. If the Mini App gets boring, people won't have to uninstall it. It will simply disappear from the frequently used apps panel.
Thus, it is easier for users to try new products, as interacting with them requires almost no effort and resources. In addition, Android users can access apps from Google Play, which is blocked in China, thanks to mini-apps.
Can WeChat Mini Apps replace native apps?
Half of WeChat's most popular Mini Apps still exist as standalone apps. In the e-commerce and lifestyle sectors, this figure reaches 80%. The reason is obvious – limited functions can fit into a compact app.
In addition, Mini Apps only work within the ecosystem, and it is not easy for users outside China to sign up for WeChat. Therefore, developing the service internationally with only a Mini App is practically impossible.
Nevertheless, there are obvious advantages to creating Mini Apps within the developed WeChat ecosystem:
They have low development costs: you don't need to create Android and iPhone versions. Thanks to this, small teams can launch their product.
Have access to the billion-dollar audience of the ecosystem.
Available on any operating system, the difference between Android and iOS becomes imperceptible.
The high download speed of Mini Apps and the ease of payment via WeChat Pay provoke users to impulse purchases, especially during sales.
However, there are some downsides:
Mini apps are developed using a JavaScript framework from Tencent. Instead of the usual HTML and CSS, you must use WXML and WXSS.
You can't send push notifications from Mini Apps.
Updates in the Mini App must be approved by Tencent every time.
Payments are only possible via WeChat Pay.
Appearance and functions are limited to WeChat's library.
Mini programs can be an extremely useful channel of communication with Chinese audiences. Moreover, they can increase the purchasing power of your products and services. It is not only an image for your business in China but also a valuable tool for sales to residents of China.
Who can add Mini Apps to WeChat?
Mini apps are created both by WeChat and third-party developers, and the latter can receive investment from Tencent. Chinese tech giants are eager to invest in early-stage companies. In return, they expect exclusive inclusion of the product in their ecosystem.
Tencent has developed a framework based on JavaScript and its own markup languages WXML and WXSS, analogs of HTML and CSS, to create Mini Apps easily. The WeChat API and SDK allow developers to access and integrate WeChat's proprietary features into various applications: native apps, web apps in the WeChat browser, and Mini Programs.
Mini App developers must strictly follow Tencent's guidelines for both development and updates. Otherwise, apps may not pass moderation.
Why WeChat needs Mini Programs?
WeChat said that the company is focusing on mini-apps. It's no surprise, as WeChat has over 1.2 billion monthly active users. According to old stats, users spent $115 billion in 2019, up 160% from 2018's results.
For comparison, the total volume of goods turnover on Amazon in 2019 amounted to $239 billion. All payments from Mini Apps go only through WeChat payment. Each transaction is charged a commission of 0.6% on average. The company's interest in the growth of Mini Apps from third-party developers is obvious.
In addition, Mini Apps are attracting a new audience. More than 60 million of their users are aged 55-70, many of whom are learning to make online purchases through WeChat services.
At the same time, Mini Apps are also profitable for their creators. Beverage chains like Starbucks, LuckinCoffee, and Heytea reported a 200% increase in users ordering takeaway goods through the companies' mini-apps in 2019.
WeChat has access to a huge amount of information about users. The app knows what they spend money on, how and with whom they spend their free time, where they go, what they buy and eat, and more. It benefits mini app creators whose services can be offered to a predominantly targeted audience.
Examples of popular WeChat Mini Programs
Here are some examples of popular WeChat Mini Programs:
WeRun. This Mini Program counts steps and motivates users to lead an active lifestyle. It can even organize competitions between friends based on the number of steps.
Didi Chuxing. This is a cab booking and travel app. Users can order cabs, share rides, and use other transportation-related services.
Meituan Dianping. It provides information about restaurants, cafes, food delivery, movie theaters, and other entertainment places. Users can read reviews, place orders, and make reservations.
Tencent News. This Mini Program provides users with up-to-date news on various topics.
JD. It is an online shopping Mini Program where users can browse and buy products from JD.com, one of the largest online stores in China.
WeChat Wallet. It is a Mini Program for digital payments, sending money to friends, paying bills, and more.
SmartStudy. This educational Mini Program offers interactive educational materials for kids, including games and learning apps.
Douban. It is a platform for sharing reviews of books, movies, music, and other cultural events. Users can also find like-minded people and recommendations.
WeChat Work. It is a business communication tool that provides opportunities for internal discussions, collaboration, and project management.
Mini-games like Jump Jump. WeChat also has many mini-games that users can play with friends by competing and participating in various activities.
These are just a few examples, and there are actually many different Mini Apps on WeChat, covering a wide range of user interests and needs.
Conclusion
WeChat Mini Programs embody a testament to China's unique approach to digital innovation, forging a path where bite-sized yet impactful applications redefine convenience, accessibility, and engagement. As we progress, the narrative of WeChat Mini Programs will likely continue to unfold, promising further disruptions and transformations within China and beyond its borders.