There are over 6.3 billion smartphone users across the world. Already in 2019, over 80% of consumers made purchases using their smartphones. Even more interestingly, users spend significantly more time on mobile apps than on standard websites or mobile-friendly versions of websites. This difference can be as much as 20 times. This is why having a custom mobile application is a tremendous competitive advantage.
This article discusses how custom-built apps can help your business, custom mobile app development vs. social media store, and how much it costs to develop an app in 2024.
What is custom mobile app development?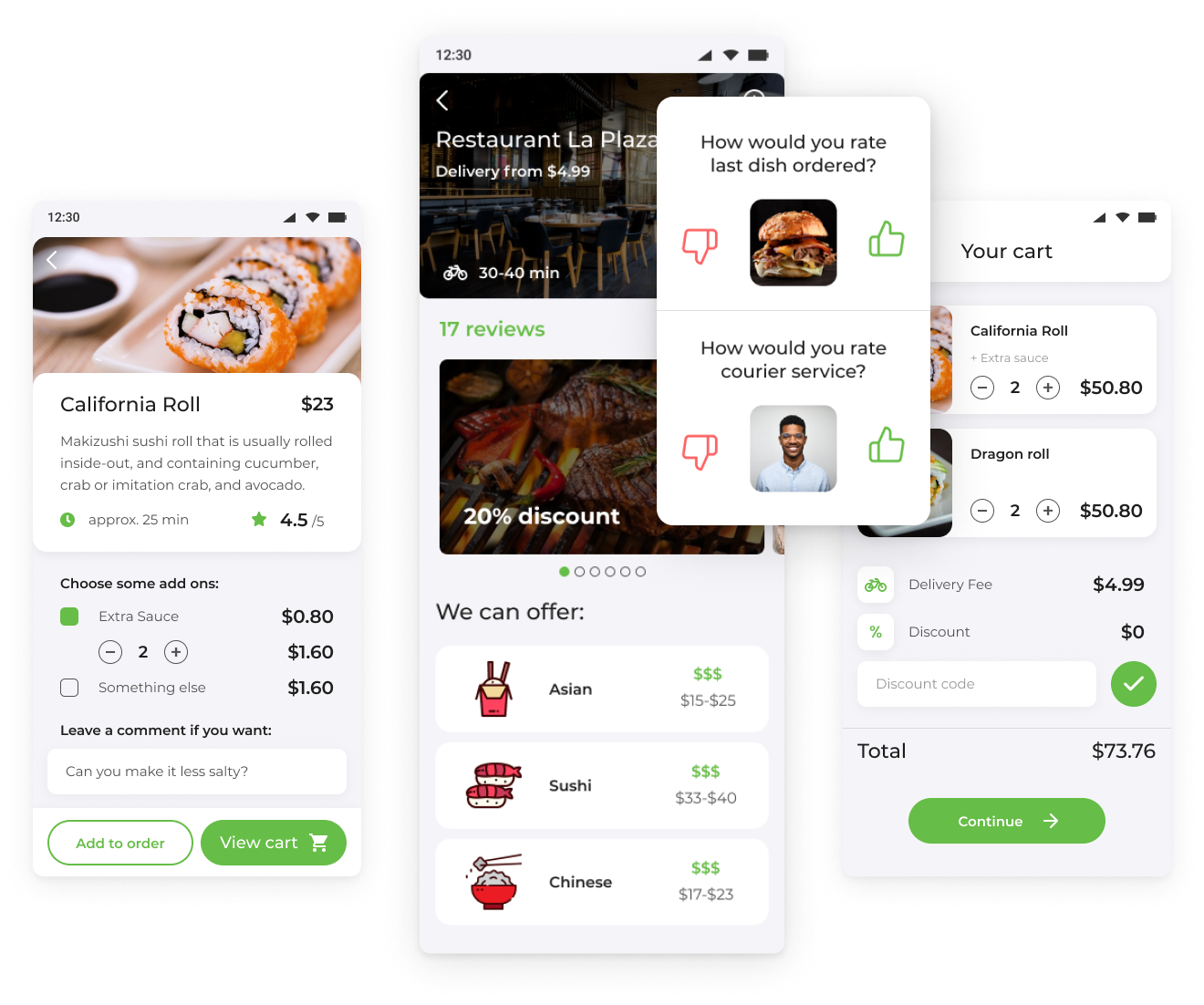 Custom mobile application development means creating an app that is tailor-made to meet the specific needs and requirements of a particular business, organization, or individual.
For companies, custom mobile apps have a much deeper potential than it might seem at first glance. They don't just serve as a sales platform but also provide access to users' smartphones. Compared to when potential buyers visit a website on their own or don't open emails, messages on their mobile phones definitely get attention. This leads to a significant increase in the percentage of successful purchases caused by such notifications. In addition, mobile apps play a key role in collecting personal information (with user consent) and are an important channel for engaging loyalty program members.
How can custom-built apps help your business?
M-commerce is a trendy direction for many companies today. Custom-built mobile applications can offer several advantages to businesses, helping them address specific needs and gain a competitive edge:
Tailored functionality
Improved efficiency
Enhanced user experience
Competitive advantage
Scalability
Improved integration capabilities
Customer engagement
Analytics and insights
Before developing a custom mobile application, it is important to discuss its economic feasibility. Developing a mobile application is not just about development costs but also subsequent costs for updates, marketing, and technical support. However, according to statistics, conversion rates in mobile apps are three times higher than in mobile browsers.
The payback of a mobile app will depend primarily on the average customer check and the number of purchases made through the app each month. It is also essential to consider the share of your target audience that uses smartphones to order goods or services. According to Shopify, m-commerce volume is expected to hit $620.97 billion by 2024. This means nearly half (42.9%) of all e-commerce purchases will be made via a mobile device.
In such circumstances, you can consider developing an app if monthly purchases are at least 1000. The payback period may take much longer if orders are less than 100 per month. Therefore, it is important to objectively assess your audience's capabilities and potential before developing the custom mobile application.
Don`t know whether you need a mobile app? Our team can consult you!
How do you attract users to your new custom mobile application?
After developing a mobile application, the main goal is to attract potential users to download and use it. There are different strategies for this, especially for companies with different levels of awareness and customer base:
Leveraging the existing customer base. Companies with a large and well-known customer base have an advantage because they can send out notifications and offers to their customers. This can significantly increase the response rate and accelerate the spread of the app among their own audience.
Social media advertising. Social media advertising campaigns can help you attract new users, especially if your business is unknown. You can use targeted ads to maximize the reach of your target audience.
Advertising in retail outlets. If your company has physical stores or representative offices, advertising in them can help attract customers to your mobile app. For example, you can install QR codes for quick app download.
Special offers and promotions. User engagement can be enhanced with special offers and discounts available only through the mobile app. This can be an additional incentive to download and use the app.
By the way, developing your custom mobile app makes sense if:
The company operates on a national level or plans to expand in the future to increase its reach
There is a large customer base that could become potential users of the mobile application
Analytics show that users visit your eCommerce website more often from mobile devices
Online sales are the main channel for selling your products
Given these factors, custom mobile app development can be an important part of your company's strategy to attract and retain customers.
What to consider before ordering custom mobile app development?
The economic component and market research play an important role in the app development decision-making process. Here are some key points to consider:
Costs and payback. Developing a mobile app can be costly, so it's important to create a financial model and sales forecasts to understand how quickly you can expect the app to pay off and become profitable. This will help to avoid unforeseen financial risks.
Demand analysis. Conducting a demand analysis among your potential audience and your own customers is an important step. Understanding whether there is a demand for your product or service through a mobile application will help determine its viability.
The ratio of sales volumes. If your sales volumes are still small, using social networks or existing marketplaces may be better.
Potential for expansion. Consider the potential for further business expansion. A mobile app can be useful if you plan to grow your business nationally or even internationally.
Benefit to customers. It's also important to consider how a custom mobile app will improve the benefit to your customers and make it easier for them to buy or use your services.
Overall, developing a custom mobile app is an important decision. It should be made based on an objective analysis of your business's finances, demand, and strategic goals.
Comparing custom eCommerce mobile apps and social media stores is not a good decision, as they are 2 different sales tools with unique advantages and limitations. Here are some key differences between them:
Personalization and automation. Mobile apps can provide a more personalized experience to users based on their history and preferences. They also allow you to automate many processes, making buying easier for customers.
Functionality. Mobile apps can have more functionality, such as advanced payment options, one-click ordering, and other convenient features that make it easier to buy products.
Optimized interface. Mobile apps usually have an optimized interface for mobile devices, making them more user-friendly.
Limitations of social networks. Social media stores are often limited in functionality and are designed primarily to sell small volumes of goods or services. They may be appropriate for small businesses and startups.
Business scale. Mobile apps can be an ideal option for companies that have a national or international scale and those that plan to scale in the future.
So, the choice between a custom mobile app and a social media store should be based on your business's specific needs and scale, as well as the demand and convenience. Sometimes, using the custom mobile app and social media store simultaneously for different aspects of business makes sense.
Want know how much does it cost to develop your app?
Contact us!
How much does it cost to develop an app in 2024?
The cost of developing a mobile application is one of the key factors in choosing the functionality for your future app. It can be an obstacle to starting the custom app development. In some cases, it can be even higher than the cost of e-commerce website development.
The cost of developing a new app depends on several factors, including the type of app, its functionality, and the custom app development company. A simple app can cost about $3000. However, the more complex the app's functionality and tasks, the more it will cost to create. Prices for the most complex mobile applications can start at $10,000.
Most mobile apps today are cross-platform, meaning they work on iOS and Android. The cost of developing such apps starts at $10,000.
The standard feature set for most mobile apps includes the following elements:
Online store. This basic function of many apps costs from $4000, depending on the complexity.
Registration and authorization. This functionality is mandatory for almost all categories of applications, but there are different approaches to its implementation. The cost varies from $1000 to $3000.
Search function. This is an important tool for apps that offer a wide range of products. Its development cost from $2000.
Media content. Adding videos and images of products can increase the app's appeal, but this is another element that can increase the cost by $2000 or more.
Chats, comments, messages. The cost of these features starts from $2000.
The less important features, such as support for multiple languages and the use of geolocation and sensors in the user's smartphone, can also affect the custom app development cost.
Conclusion
Customers often face various problems when using custom mobile apps. Here are some of the most common problems:
Registration and login issues. Inaccessibility or difficulty registering or logging in to an app can lead to losing potential customers.
Problems with checkout. Difficulties during checkout, unclear procedures, or difficulties in filling out forms can scare away customers.
Payment issues. Payment issues, including payment system errors or unsecured transactions, can lead to unfinished purchases.
Delivery issues. Delays in delivery or loss of orders in transit can cause customer dissatisfaction.
Excessive notifications. An excessive number of notifications or promotional messages can be intrusive and unpleasant for users.
Problems with debiting and crediting bonuses. Errors in the systems of debiting and crediting bonuses can affect customer relations.
Insecure databases. Insufficient security of customer and seller databases can lead to personal information leakage and increase user risk.
Want to have a reliable mobile application? We at SoloWay Tech can help you! Our team has created over 800 mobile solutions and applications for numerous industries, including sports & health, design & building, eCommerce & retail, fishing, finance & banking, eBooking, and tourism. Feel free to contact us right now!