We have already discussed digital transformation and why businesses need it in 2023. But how to implement it? Both small and global changes in a company require a strategy. It will help to introduce technologies into business processes consciously, with benefits for the company, and not just take what has worked for a competitor.
This article discusses what a digital transformation roadmap is, how to create a digital transformation roadmap, and what digital transformation management approach is better.
What is a digital transformation roadmap?
Digital transformation roadmap is a complex concept. The roadmap includes studying the company's current state and setting development goals. Also, specialists study the industry and digitalization trends when creating a digital transformation roadmap. This research results in a document with a digital transformation strategy and recommendations on selecting tools and KPIs for the process.
Digital transformation can be divided into two blocks. The first is to work with the reduction of operating costs. In this case, the goals and plan will be simple: to understand current business processes and find ways to reduce costs through digital technologies. For example, electronic document flow speeds up interchange with suppliers and payments. As a result, you receive money faster and increase the turnover rate, which is essential for the company. Or, for example, with the help of the Internet of Things, you put surveillance on equipment. 
The Internet of Things (IoT) is a data network between physical objects. The network is organized with sensors embedded in physical objects that collect data and software that processes it. The simplest example of IoT is a fitness tracker that can monitor a person's heart rate, count steps, and track sleep phases.
Doing this can prevent equipment breakdowns and reduce repair and maintenance costs. You will not have to pay for a repair worker who regularly comes and inspects the equipment. A special sensor will do it for you. The data from the sensor goes to the monitoring system, which will warn you of a possible breakdown, remind you of scheduled maintenance or react to emergencies.
The second block of digital transformation is how to create a new way for a company to make money with digital tools. This can be creating new digital business models within an existing business or bringing them into a separate business.
The digital transformation roadmap needs to consider both of these blocks: cost reduction and new ways to make money. A major transformation and invention of a new business model without cost reduction is not exactly impossible, but difficult.
How to create a digital transformation roadmap
You don't need to create a digital transformation strategy for a simple business, such as selling goods. It is already used in global practices. The first thing to do is to convert as many simple operations as possible into electronic form. This is the entire paper-based document flow with contractors, suppliers, and buyers. Doing this saves money: you need less time and staff for operations. Further on, you can think about automating the functionality of different employees. This helps to reduce personnel costs.
In larger and more complex companies, the digital transformation strategy is created in several stages:
Strategy session of the company's top management. At these sessions, management defines the company's goals for the next 5 to 10 years, setting goals for profit growth, launching new lines of business, and improving business efficiency. These goals are then broken down over time: what should happen in 3 years, one year from now, etc. 
Research the company and its growth points. At this stage, you need to find out what trends there are in the industry and what competitors have already implemented. Based on the analysis of competitors, you can determine where the company is in relation to the industry leaders: lagging behind, catching up, or being close to them. Those who are catching up will have an advantage here. Those who are ahead are always experimenting, making, and correcting mistakes. Lagging behind companies can utilize the experience of those who have already successfully traveled the path of digital transformation. 
Research technological and management trends. For digital transformation, it is important to choose relevant tools. If the world moves towards electric transportation, it is probably not worth creating new trends using steam traction.
Formation of project portfolios. At this stage, you can take the value chain or the company's value chain and use it to analyze which aspects of the business you can implement digital technologies. For example, you need to reduce the time required to ship and receive finished products in logistics. In production, you need to reduce operating costs for equipment repair. You must set goals, objectives, and an image of a good result for each project. Then you must organize them in a calendar plan and assign a responsible manager to each project portfolio. You form a pilot version of the digital transformation roadmap at this stage. 
Test implementation and check the effectiveness. At this stage, you can make an automation system and try to implement it on small volumes. It is important to show managers a quick result. We mean how much you managed to save on a small implementation and how much you will save or earn on it in 1, 2, or 5 years. 
Choice of project management approach. Here you can choose a standard project management scenario called Waterfall or any Agile management framework, such as Scrum.
Forming a document for management. If you haven't written down a digital transformation roadmap, it doesn't exist. The document must include a strategy with an implementation plan, a list of digital tools, and recommendations for a project management scenario. This executive summary can fit on two pages or a few presentation slides. However, not every executive will believe you if you don't have a huge stack of research and justification documents tucked under the two sheets. Capture every step of the roadmap development process: researching the company, analyzing competitors, and studying trends and digital tools. Add this data to the final document so management has no questions.
Once the roadmap is ready and approved by management, it becomes the project manager's responsibility, who will implement it. This specialist selects specific technologies, proprietary or purchased software, and other organizational issues.
Digital transformation management approach: Waterfall or Agile?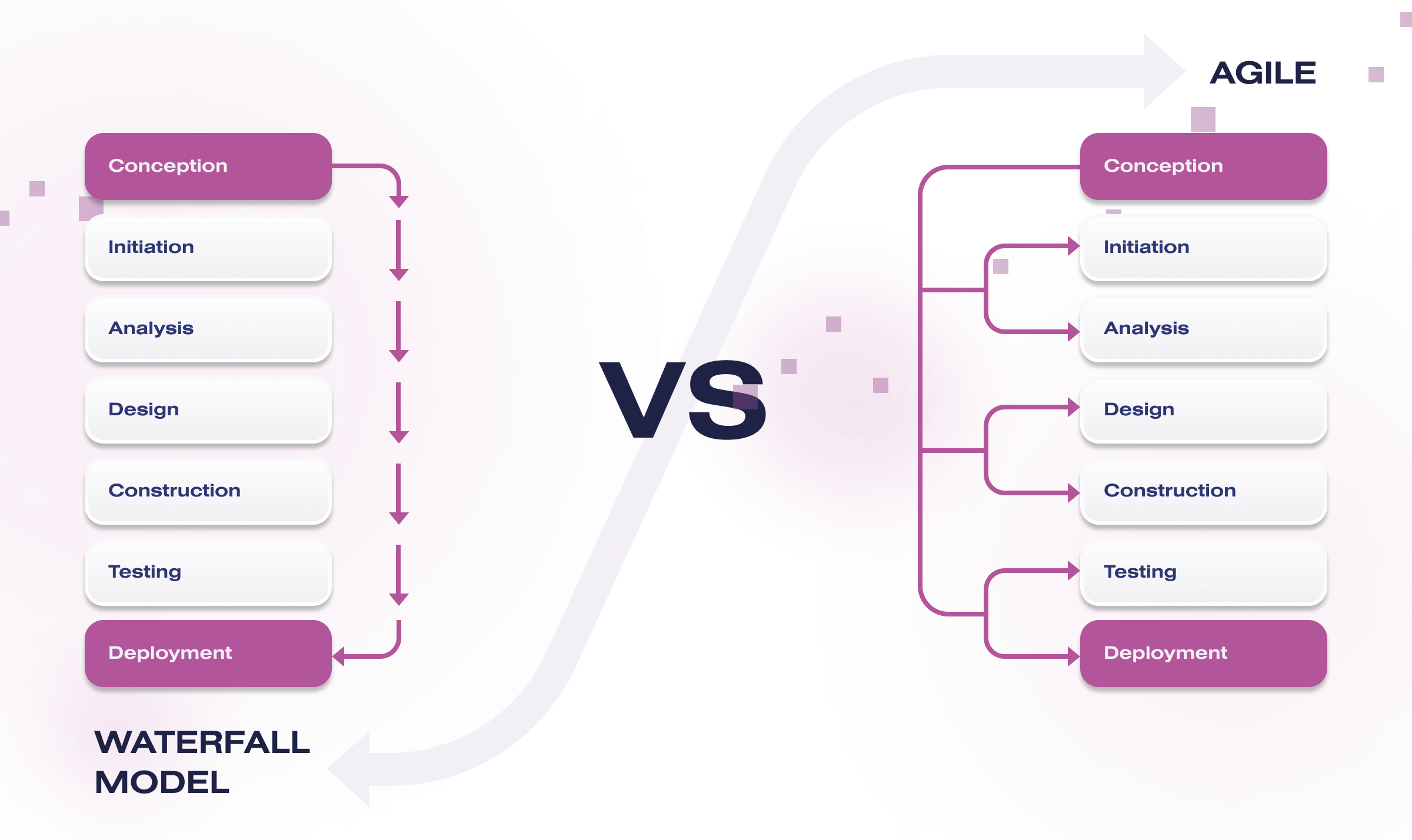 Waterfall is a model for product development that allows you to solve tasks according to the principle of a sequential plan without going back to previous stages. Graphically, it can be represented as a continuous flow or waterfall. The Waterfall model is also often referred to as a cascading model.
Agile is a group of techniques for agile project management in a development team. The workflow in this approach is divided into small time intervals. They are also called sprints or iterations. During each sprint, the development team creates a part of the product that can be tested and evaluated. This approach allows you to make significant changes to the project even when development is in full swing.
In the Waterfall scenario, if you decide to fly to Mars, you build a rocket, test it, and fly to Mars. In the Agile approach, you design a rocket, iterate, realize you don't need Mars, think about going to Jupiter, and end up on the Moon.
In Agile, you can go back a step if you don't get the desired result. Iterations should be short and cheap to avoid spending much shareholder money. So you can quickly decide on a digital transformation path.
How can SoloWay Tech help you drive digital transformation in your organization?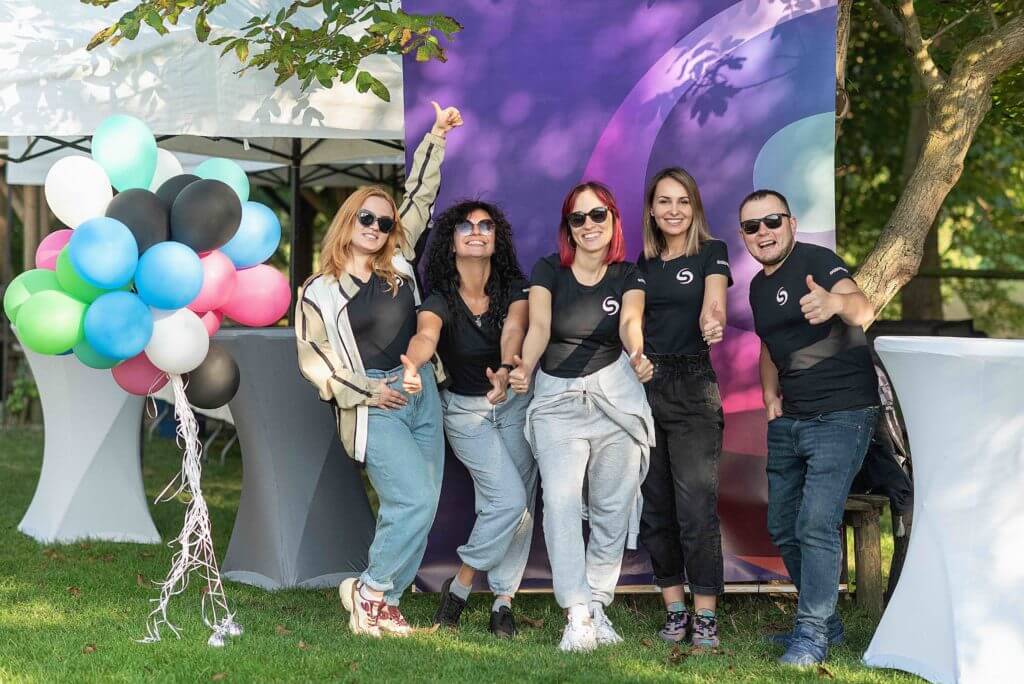 SoloWay Tech prepares comprehensive digital transformation roadmaps to help systematically address these issues. We have a good understanding of the structure and content of the digital transformation roadmap to ensure that the strategy is ambitious but pragmatic and feasible in the current economic realities.
As a result of the project, you receive a digital transformation strategy as a document and a pragmatic roadmap for implementing the company's digital initiatives. Except for developing a digital transformation roadmap, we can:
Consult regarding the digital transformation of your business
Design digital customer experience
Optimize business processes
Automate business processes
Re-engineer legacy apps
Develop innovative products and services
Implement end-to-end ML and AI engines
Engineer IoT
Build Big Data infrastructure
Consult regarding the best implementation of IT infrastructure in your business.
Organized SoloWay Tech processes will allow you to start working on the project almost immediately.
Need a digital transformation roadmap? Hire SoloWay Tech!
Conclusion
Digital transformation does not have to be a one-step process. Instead, continue to build on the successes achieved and make it an ongoing process. There will always be new technologies and customer requirements to consider. Capitalize on the momentum from your achievements and move on to the next item on the list, striving to make your company as competitive as possible.