No one is surprised by a virtual voice assistant these days. According to a study by Microsoft Market Intelligence, 72% of respondents use voice search. Voice assistants are not only in smartphones but also in cars, televisions, and computers. This fact demonstrates the additional opportunities that technology opens up for the development of m-commerce.
In our article, you will discover what voice commerce is and how it impacts mobile commerce. We'll also look at voice commerce statistics and how businesses adapt to the rise of voice commerce.
What is voice commerce?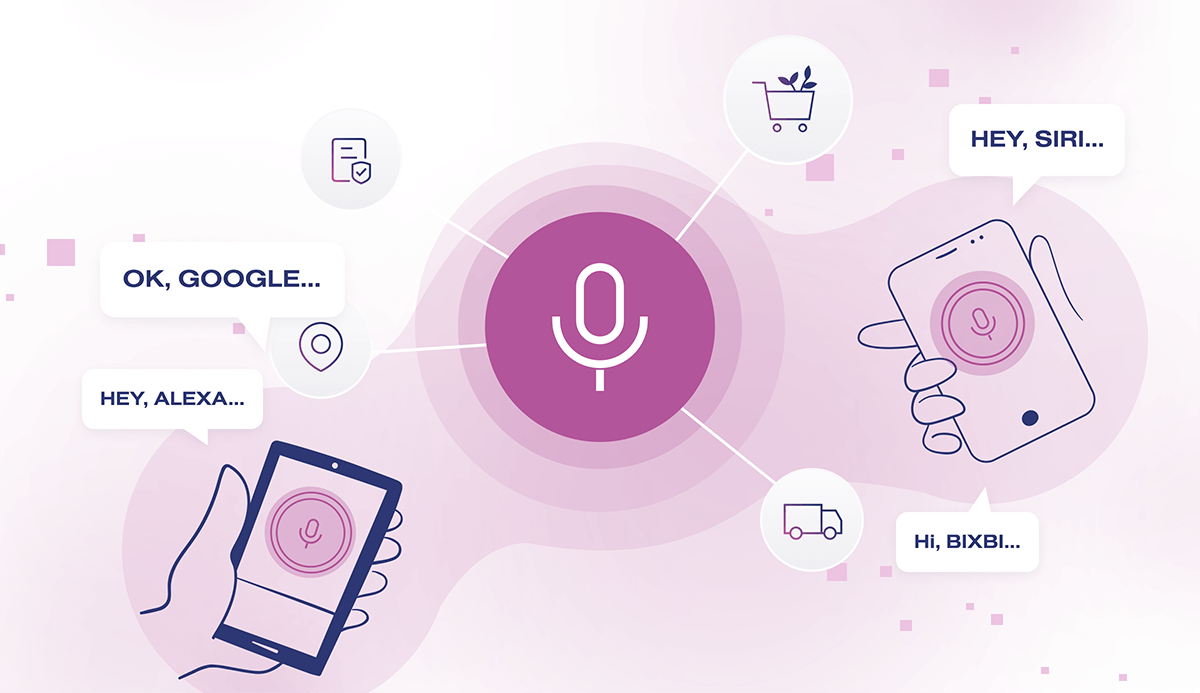 Voice commerce means using voice commands to search and buy products online. Users tell their mobile device what product they need, and it searches for it online. Smartphones and tablets with virtual assistants such as Siri and Google Assistant and smart speakers such as Amazon Echo and Google Home make it easier to interact with voice technology.
With their help, the consumer can browse the online store catalog, ask questions, get product ratings, check their availability and price, and place an order. Thus, a customer can browse the available products with the help of their voice while doing other things.
People owe a lot to e-commerce and m-commerce, which have made the shopping experience more convenient. But voice commerce is just another step in improving the customer experience. Online shopping with voice commerce is more enjoyable.
Using voice commerce allows businesses to:
Expand their customer base.
Improve customer satisfaction.
Increase the conversion rate.
Use transparent built-in analytics that provides insight into customer buying habits and loyalty.
Use solutions that scan voices to recognize and analyze their emotions. This information provides a better understanding of customer needs.
Maintaining spontaneous purchases (voice assistants are especially suitable for this). For example, when people notice that they're out of hand soap, they place an order with Alexa right in the bathroom.
The Impact of Voice Commerce on Mobile Commerce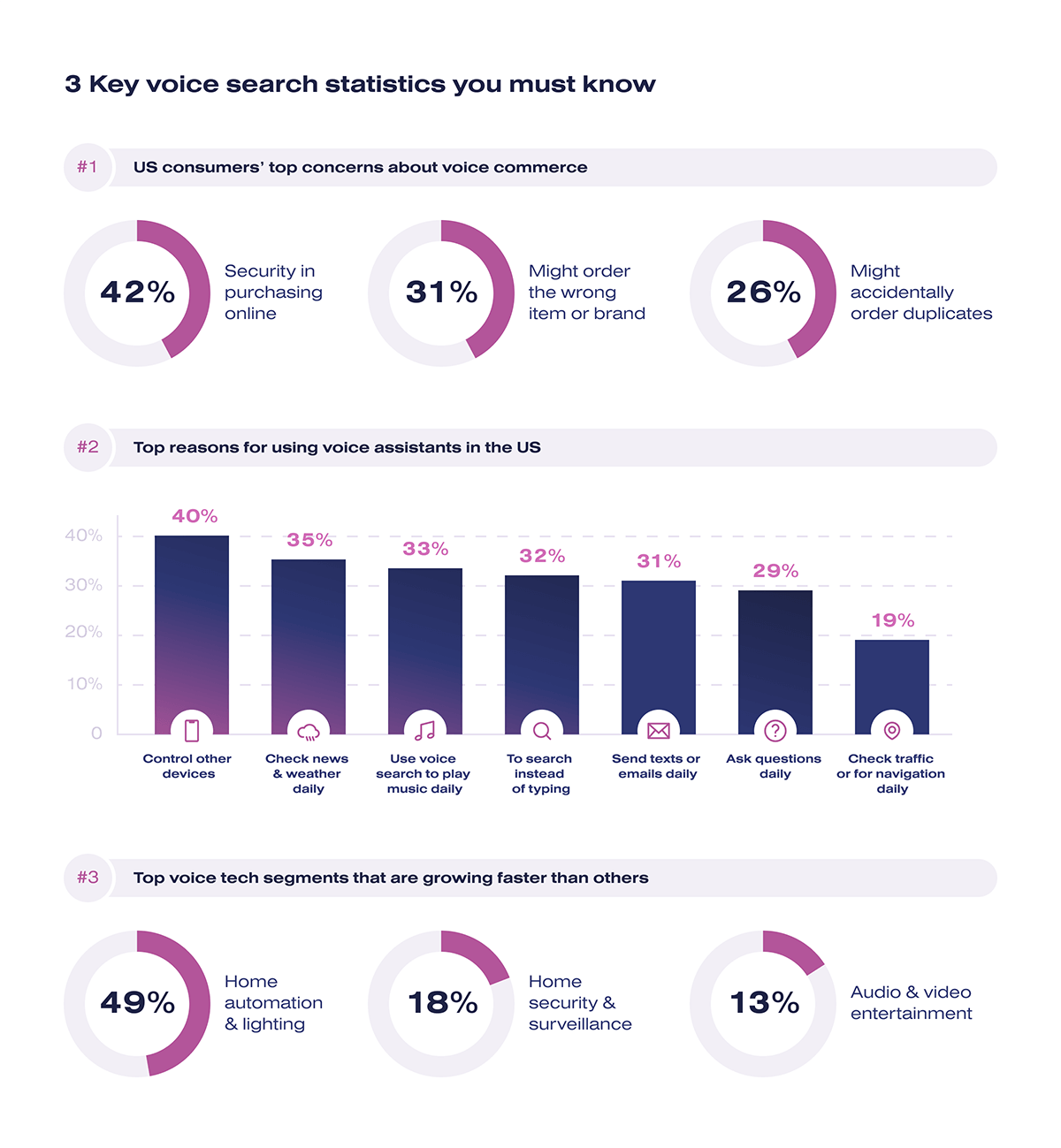 The total value of voice-activated shopping is predicted to grow from almost $5 billion in 2021 to $19.4 billion in 2023. This is more than a 400% gain in only two years.
Large e-commerce brands such as Walmart and Amazon are already leading the way in implementing voice shopping solutions.
For example, Amazon customers can use an Alexa-enabled device to search, order, and purchase products from Amazon using their voice. The word "Alexa" activates the device. A customer says, "Alexa, order a mobile phone". Alexa checks the saved purchase history and suggests products based on it. If there are no queries, such as the current one among the saved data, Alexa first recommends Amazon Choice products. Then it announces the price and asks if the customer wants to buy it. If the answer is yes, Alexa places the order; if the answer is no, it may suggest other options. If the search is in a category where Amazon has a private-label product, Alexa recommends it 17% of the time.
Some companies, inspired by Amazon's success story, create their voice assistant and build an entire ecosystem around it. For example, the Scottish whiskey brand Johnnie Walker uses voice search to explain the features of its whiskey to users and to establish a connection with the brand. They ask users questions about their preferences and then recommend the most suitable Johnnie Walker product.
Key Statistics about Voice Commerce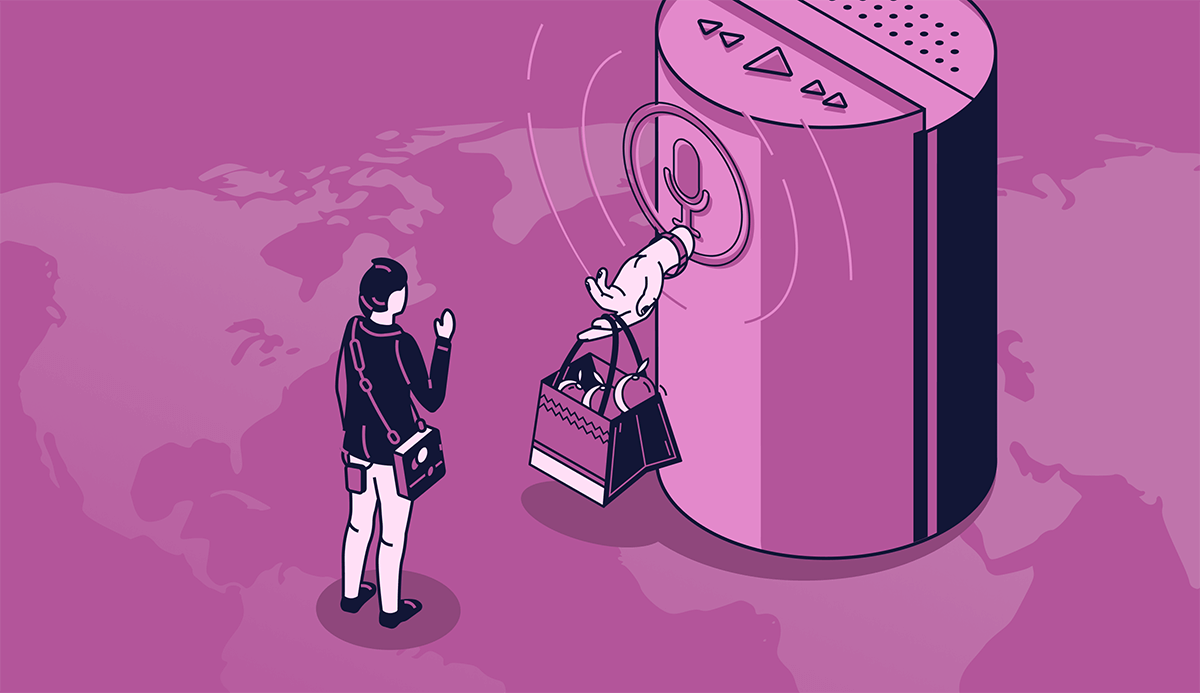 The following factors impact the triumph of the voice commerce industry:
Would you like to discover Soloway's solutions for the e-commerce industry? Check our study cases!
How are businesses adapting to the rise of voice commerce?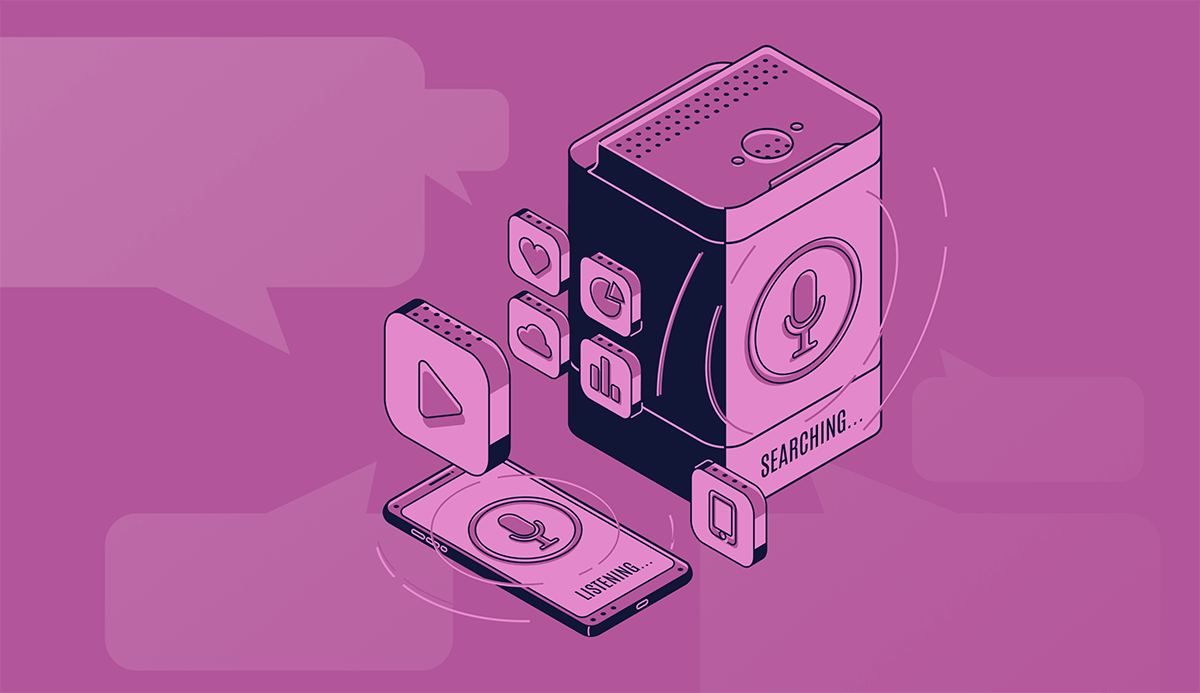 As voice technology grows in popularity and improves, it's clear that businesses adapt to it to keep up with user expectations and stay ahead of the competition. Here is how they do it:
Optimizing the design and functionality of voice-controlled devices. Businesses ensure seamless integration with existing systems and reduce obstacles in the customer journey with the help of voice search. This stimulates buyers to actively use voice commerce and increases the likelihood of spontaneous purchases.
Personalization and recommendations. Many companies introduce AI to enhance their voice assistants. People using voice search can receive personalized search results and recommendations thanks to AI. This lead to increased cross-sales as personalized recommendations by AI anticipate buyers` desires.
Special offers and promotions. Businesses improve voice assistants to stimulate them to purchase using special offers and promotions. AI-based analytics allows for the creation of exciting offers to customers.
Optimization of the ordering and delivery process. With voice technology, people can make orders just in one action. This makes the shopping experience more comfortable and enjoyable for the customers. As a result, they have more desire to check out new products or services.
Integration with other channels. Integrating voice search in different channels allows businesses to increase their overall effectiveness.
Wondering how to enhance your e-commerce business with voice technology?
Drop us a line
Future of Voice Commerce and Mobile Commerce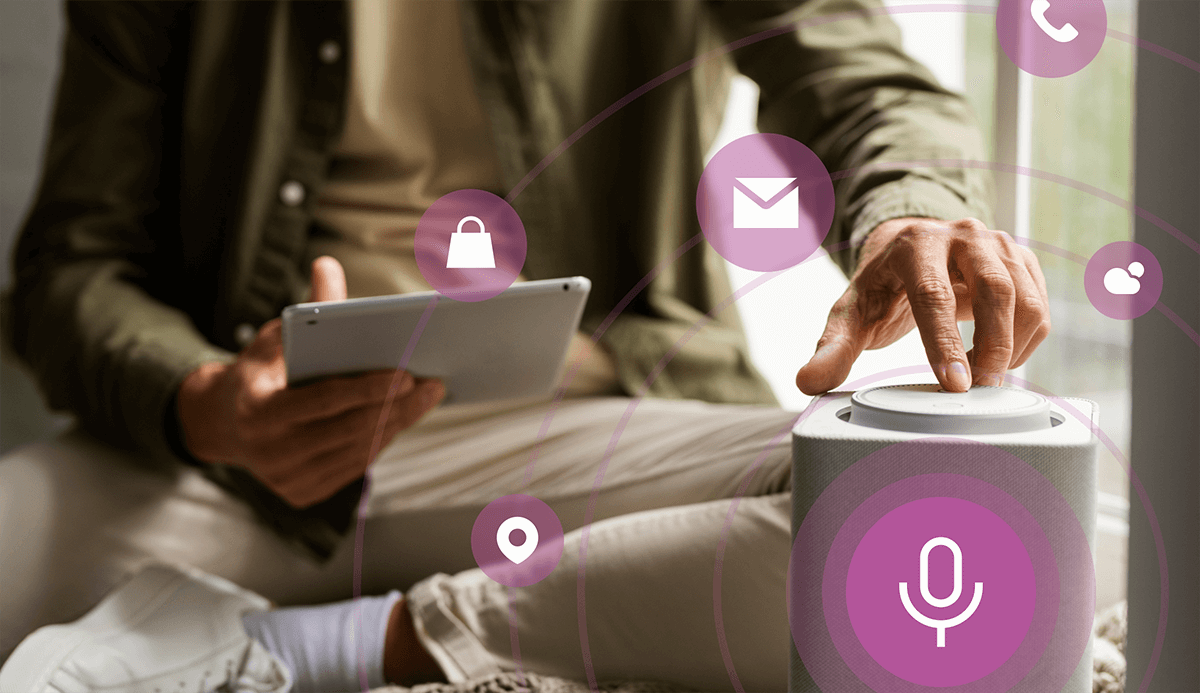 Voice search has become a popular way to search for information on the Internet. And this market is predicted to grow in the coming years. The priority of voice control first has been talked about during the COVID-19 pandemic, and more and more brands are trying to integrate voice commands as an innovation designed to surprise customers.
At the same time, we want to point out two challenges facing businesses that want to take advantage of voice commerce:
Lack of trust. Along with the development of voice commerce, companies are improving the function of personalized recommendations. Consumers often buy products they are already familiar with via voice. Instead, when they want to try a new product, they switch to m-commerce shopping. They want to see it before they buy it. So businesses need to provide a comprehensive and convincing product description to stimulate people to buy new products with their voice.
Language processing. Consumers communicate with virtual assistants naturally, just like they would with a real person. Businesses need to adapt their SEO strategies for voice search. When creating content, it's important to consider that customers are likely to speak in longer, more complete sentences. Businesses should make sure that their product descriptions include words that match the way people use voice search to find things they are interested in.
If you don't have your e-commerce website and think about its development, we have an article about custom e-commerce website development that can give you an understanding of the entire development process.
Conclusion
Voice commerce will firmly enter our lives soon, just as e-commerce has done. Experts predict a further jump in demand for voice purchases. 75% of US households will own a smart speaker by 2025. Already now, people can make online purchases by controlling the process with just their voice. And over time, the potential of voice assistants will only grow, especially if it will be used in conjunction with the other technologies we have.
You are on the right path if you are looking for a voice commerce solution that corresponds to your needs. Soloway delivers full-range development services for e-commerce and m-commerce companies. Feel free to fill up the form and start our collaboration!