Over the last three years, eCommerce experienced an abrupt rise. It was mainly stipulated by the COVID-19 pandemic. At that time, millions of consumers shifted to online shopping. However, 2022 was the first time when the industry experienced negative revenue growth. 
But online shopping is still there due to its convenience and many other advantages.
For merchants to thrive, they need to adopt the latest emerging eCommerce trends.
In this article, we'll talk about what trends will shape the eCommerce industry in 2023. Let's dive into the topic.
eCommerce back to normal — true or false?
The eCommerce industry has been significantly impacted by the COVID-19 pandemic. Many businesses saw a surge in online sales. This was the result of widespread lockdowns and social distancing measures. As physical stores reopened and restrictions got relaxed, the eComm sector has started to readjust itself. And now it has turned to the usual pre-COVID levels.
Anyway, eCommerce has changed significantly and will keep evolving in the coming years. And the latest trends identified by industry experts are evidence of that.
Let's take a look at those trends leading the way.
Social media is increasingly being used as a platform for eCommerce. Businesses are using it to reach and engage with consumers in new ways. Social media provide business with:
A large and engaged audience
An opportunity to interact directly with customers and build stronger relationships with them
Features that allow them to sell products directly to customers through the platform. Some exampels are the Buy Button on FB, Instagram Checkout, shoppable ads on TikTok, etc.
Greater influencer marketing capabilities
An opportunity to share customer experiences and opinions about products
The empowerment of immersive technologies
More and more brands are testing immersive technologies to offer innovative customer experiences. Immersive technologies encompass Augmented Reality, Virtual Reality, Artificial Intelligence, and Metaverse. Let's see how each of those can be beneficial to eComm businesses.
Visual commerce on the rise
Did you know that you might lose up to 71% of customers by failing to provide AR and VR capabilities? Multiple world-famous brands have already benefitted from Augmented Reality and Virtual Reality:
Lenskart lets customers "try on" their frames and glasses
IKEA provides the Studio app that allows capturing 3D room plans with furniture
With Amazon's AR View app, customers can "view" products in their own homes
Augmented Reality and Virtual Reality are becoming increasingly important in the eCommerce space. They offer a more interactive and immersive shopping experience. This can help to increase customer engagement, conversions, and sales.
Here are the benefits merchants can reap from adopting this trend:
Enhanced product experience — by seeing and interacting with products in a virtual environment.
Personalized shopping experience — by letting them see how products will look and fit.
Customizing products in real time — for higher customer satisfaction and loyalty.
More accessible shopping to customers with disabilities or other limitations.
Increased adoption of AI
Artificial Intelligence (AI) has the potential to greatly impact eCommerce. It can provide businesses with numerous benefits:
Providing personalized experiences based on customers' preferences, behaviors, and purchase history.
Analyzing customer data to provide highly accurate product recommendations.
Quick and accurate answers to customers' questions. This can reduce the need for human customer service and support staff.
Detecting and preventing fraudulent activities such as identity theft, credit card fraud, etc.
Optimizing inventory management by predicting demand and automating restocking processes to increase efficiency.
Analyzing customer and market data for informed decisions.
Optimizing marketing efforts by targeting the right customers with the right messages at the right time. This can help increase the effectiveness of marketing campaigns and reduce marketing costs.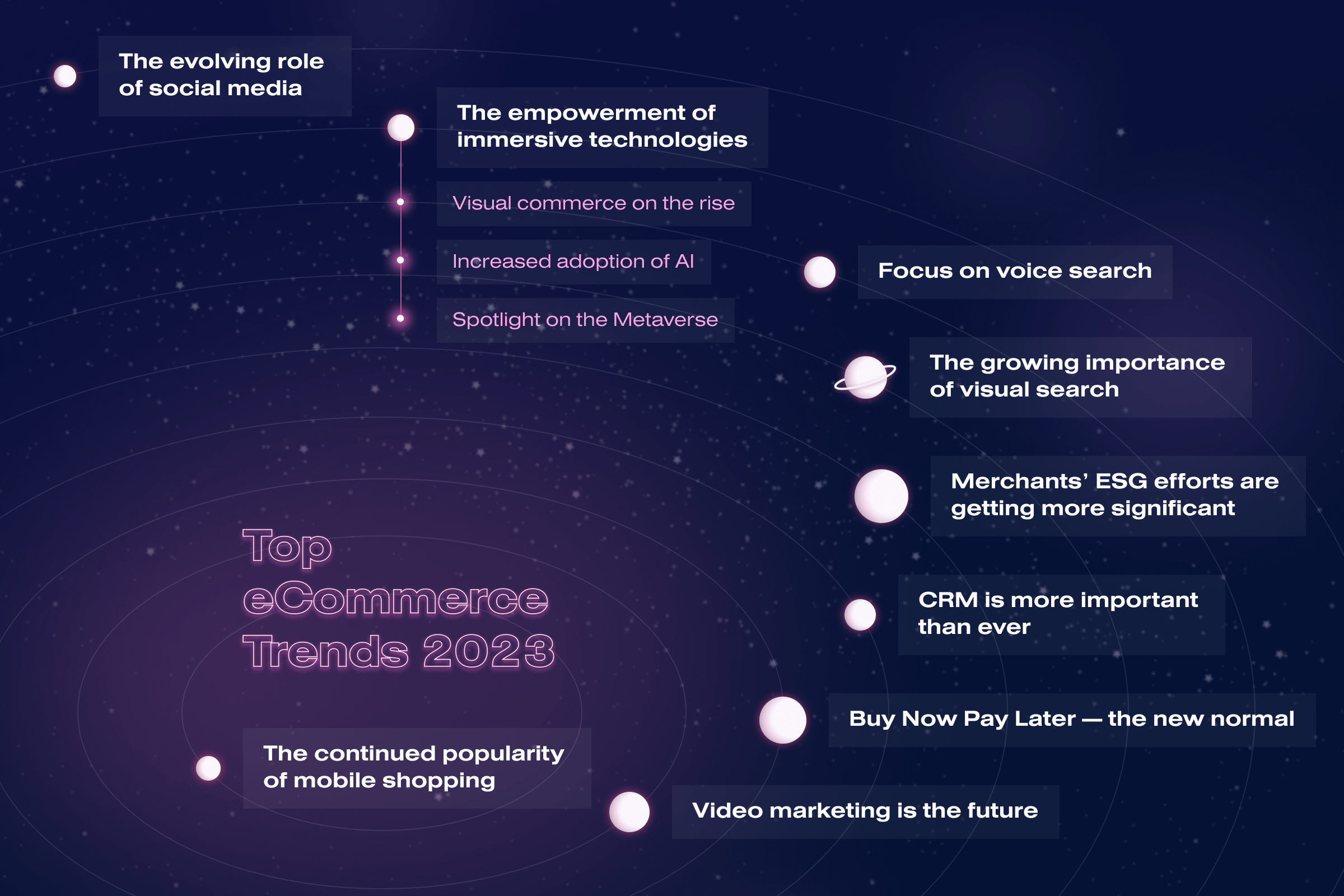 Spotlight on the Metaverse
The Metaverse lets merchants engage with customers and offer an innovative shopping experience. Here are the key benefits eComm business owners can expect from using the Metaverse:
New marketing channels to reach customers and promote their products.
Virtual product demonstrations to demonstrate products in a virtual environment.
Personalized shopping experiences by using AI and other XR (Extended Reality) technologies.
New revenue streams, including virtual goods and experiences, subscriptions, and advertising.
Focus on voice search
Voice search allows customers to search for products without typing. This technology merges computing and linguistics to create a more personalized shopping experience. It enables businesses to target customers based on their impulse and susceptibility.
By optimizing their websites and products for voice search, merchants can benefit from:
Increased visibility
Greater reach
More conversions
Better data insights
Let's make your idea a reality. Contact us for a FREE consultation on your project.
Contact us
The growing importance of visual search
Visual search allows customers to search for products using images instead of text. It provides users with a more intuitive and efficient way to discover products.
Visual search relies on image recognition technology. It can identify and match product images based on their characteristics and attributes. This allows customers to find products similar to ones they saw before. Users can also search for products based on specific visual characteristics. The technology is particularly useful on mobile devices.
Visual search can also be used to personalize the shopping experience. It provides customers with product recommendations based on their browsing and search history. Finally, visual search can improve branding and marketing efforts. It allows businesses to create engaging visual content that showcases their products.
Merchants' ESG efforts are getting more significant
Three in ten people were ready to pay more for products from companies with stronger ESG efforts. 
ESG stands for Environmental, Social and Governance. It is important to consumers because it reflects their personal values and beliefs. It also has a direct impact on the environment, society, and the future. ESG is becoming a key factor in consumers' purchasing decisions. Companies demonstrating a strong focus on ESG can enjoy increased customer loyalty. This will consequently lead to more sales.
CRM is more important than ever
Customer relationships are crucial in eCommerce. They can help businesses retain customers, increase sales, and improve customer satisfaction. Just imagine, you might lose up to 92% of customers after 2 or 3 negative interactions. This proves the importance of using CRM tools and strategies.
Building strong customer relationships can lead to repeat business. Happy customers are also more likely to recommend a business to their friends and family. Well-established customer relationships can increase customer loyalty and decrease customer churn.
See how one of our clients benefited from a robust CRM system and enjoyed an improved process of storing data about products, orders, and customers. 
Buy Now Pay Later — the new normal
Buy Now Pay Later (BNPL) is a flexible payment option. It allows shoppers to make a purchase and pay for it later, usually in installments.
As of 2021, 60% of shoppers used a BNPL service. The popularity of the services can be explained by the convenience it offers. And here how businesses can benefit from offering this option:
Increased conversion rates
Enhanced customer loyalty
Increased average order value
Improved customer experience
Video marketing is the future
Video marketing can be a powerful tool for eCommerce businesses. It can help increase engagement, drive conversions, increase brand awareness, and improve SEO. With videos, businesses can create a more engaging and interactive customer experience. This can lead to increased sales and higher customer loyalty.
Videos can show he product from all possible angles. This helps make buyers more confident about making a purchase. They see what exactly they will get and how the products looks like in the real life. Merchants can use these three top video marketing strategies:
Producing explainer videos to deliver the most important information about the product quickly
Encouraging customer testimonial videos to show what others think about the product
Crearing educational how-to videos to teach people how to use the product in an easy-to-digest manner
Tired of working with development agencies delivering no outcomes? You're at the right place. We have 14+ years of experience in customized software development. We'll get you covered.
The continued popularity of mobile shopping
By 2025, mCommerce is predicted to account for more than 10.4% of the US retail sales. Mobile shopping is becoming increasingly important. More and more customers are using their smartphones to shop online. Here are some of the reasons for this:
It allows customers to shop from anywhere at any time on the go.
Many people now use their smartphones as their primary device. By having a mobile-friendly website, ecommerce businesses can reach a larger audience.
Mobile-first experience ensures simplified checkout processes and faster loading times.
Mobile devices often provide location data and other personal information. This helps provide personalized shopping experiences.
Conclusion
Staying up-to-date with the latest eCommerce trends is essential for merchants. If you want to remain competitive and meet the evolving needs of your customers, adopt them. You'll be able to improve customer satisfaction, increase sales, and gain a competitive edge.