People want to learn and gain knowledge not on a schedule but whenever they have a free minute. For this purpose, they only need a convenient tool to help them integrate learning into their everyday life. Statista said the education software market amassed worldwide revenues of around 10.85 billion U.S. dollars in 2021. This strong growth trend will continue for years, reaching 11.6 billion dollars by 2025. It is good that there are educational software. They provide access to new information at any time, place, or format convenient to the user.
This article discusses types of educational software, how much educational software development costs, and must-have features for educational software.
Why you need to create an educational app: 5 trends in education in 2024
Here are the top 5 trends in education in 2024:
Hybrid learning. It combines offline learning with online formats. This trend came to public education institutions after the pandemic. Most teachers continue to use online techniques to educate students and schoolchildren and predict that the proportion of online learning (as well as the quality of its technical equipment) will increase.
Microlearning. It involves formats in which information is presented in a concentrated and structured way. We mean short learning blocks with a specific purpose. This trend is relevant for people with higher education, who need not acquire knowledge from scratch but to pump up their existing skills for career growth.
Combining practice with study. Learning theory while practicing is effective because people immediately have an opportunity to hone the skills they have learned. This trend is especially relevant for the IT field because finding a job in IT is not enough. You must develop and constantly grow as a specialist to remain in demand (we confirm – it's true).
Education in social networks. The essence of this trend is that people learn by consuming content that seems entertaining. We absorb new information faster if it touches us emotionally. Learning with Reels, Stories, guides, and checklists is great. All of these things users want to share, retain, and learn. For high school and college students, social media learning is a distraction and broadening their range of interests.
Autonomous learning. This trend is tied to the active position of the student. In the process of learning, the student takes responsibility for the result. Autonomous learning is not suitable for children. After all, it is easier for a child to learn when someone controls them. But for adults who know how to manage their time and can self-organize, autonomous learning gives more freedom and opportunities than learning under someone else's supervision. 
These trends suggest that educational software for school or higher education will be the best educational assistant for people for many, many years to come. Well, or until knowledge is downloaded directly into the brain. Until then, you can be sure that an educational application will be a necessary and useful service for people.
Types of educational software
There are many popular educational applications. Surely, if you have not used Duolingo or Coursera, you have at least heard of them. Now, let's discuss several types of educational software.
MOOC aggregators
MOOC aggregator is a platform like Amazon, but only in education. Different authors sell their educational products on one platform. The courses look homogeneous because each MOOC aggregator has technical and content requirements. Course authors take into account the recommendations, so everything looks homogeneous. 
An excellent example of a MOOC aggregator is edX. It is a to-go educational app. Students can find lectures on any topic from psychology to programming. The duration of one lesson sometimes exceeds two hours, but this does not stop people. They buy and take courses if they feel the value of the material.
Distinctive features of MOOC aggregator edX are:
Intuitive navigation. Everything in the interface is organized clearly. Users` expectations for interaction with the application are met.
Large elements. The mobile application can be operated with one hand. All active elements are bright and large (so it is easier to get a finger on them).
Simple scenarios. The user can reach the goal in a few taps. For example, users can find the lecture where they stopped without going to the general catalog. 
These features allow users to interact with the edX app on the go, sometimes without even looking at the screen. And it makes education accessible wherever a person is.
Educational apps for learning foreign languages
This is the most popular category of educational software. We are sure you plan to learn another language from scratch or refresh your knowledge at least once. We are confident you can easily name at least 3 mobile apps for this purpose.
Learn words, tighten grammar, practice pronunciation and oral speech – all this can be done with a smartphone. Often, educational apps are created for one of these purposes. For example, Quizlet helps you learn words and works as a supplement to various textbooks.
But even more popular are universal applications that combine all language learning formats. These projects are Duolingo, Babbel, Mondly, and others. These are a kind of superapps from the world of linguistics.
Educational apps for colleges and universities
Applications for educational institutions are still few. But such applications are very useful for people.
You may remember how problematic it used to be to get to the schedule at the university. You had to rewrite the schedule and take pictures. Someday, it could be lost. Then, you had to go to a website that was not user-friendly and spent too much time there. As for canceled classes, you could know about that only when you have already arrived.
Now, applications help universities to instantly deliver information to students and students to manage their time rationally. But there are more possibilities for such applications. Their functionality can be expanded without limits – applications can be used to conduct remote classes, save lectures, and chat with a supervisor.
A great educational was announced by the Ukrainian government – "Mriya". The primary mission of the "Mriya" educational system is to meticulously evaluate academic standards, appraise the performance of educators, and scrutinize the unique requirements of students. This state-of-the-art system harnesses the power of artificial intelligence to wholeheartedly enhance the educational journey by tailoring its approach to cater to the distinct needs of every student. You can investigate "Mriya" educational system in more detail in our article Digital Transformation in Education: Trends & Challenges.
What to choose: in-house educational software development or outsourcing?
Many educational apps are in-house projects, like Duolingo. A team analyzed the targeted audience, developed an app, and devised a promotion strategy. And then, they grew an internal IT team: they hired developers, hired managers for these developers, and developed training and incentive systems for all of them.
But growing an in-house team is like starting a second business. And for everything to work, you must immerse yourself in it as deeply as in the first. Not every company can cope with such a volume of tasks. But you can make it easier for yourself and outsource the educational software development to people who create apps professionally.
Outsourcing educational app development will help you:
Focus on course preparation. You delegate the technical tasks and will watch developers put your project on its feet.
Utilize best-practice. A team specializing in app development can recommend the best solutions for your project.
Save on forming your IT team. You don't need to spend money on your IT team development. Moreover, outsourced developers will help you to become a savvy customer.
Custom educational app development is always the work of two parties: those who make the curriculum and those who make a user-friendly app. In terms of methodology, the course should be simple, clear, and fluffless. The rest is up to the developers.
7 must-have features for educational software
Here are 7 must-have features your educational app should have:
Watching educational videos. It is the basis of many educational projects. Broadcasting should be made as convenient as possible. Users should be able to enable subtitles, speed up or slow down video playback, leave timecodes, and adjust volume separately in the app. The user will be sad if these features are missing (and we are all very used to them on YouTube).
Tests. Knowledge control is important, too. If people are regularly tested on the material learned, they will see that the course works. They will want to continue learning and buy new lessons. But the main thing is not to do like in school. The task of self-testing is to help a person find gaps and fill them. Adding a link to the material will be convenient so the user can quickly return to that understudied.
Additional materials and links. Add to the application the ability to attach links to additional materials, guides, checklists, research, and summaries of the lessons. It will make the courses even more useful and increase their value.
Chat with a teacher. The ability to get clarification or specify something from a live person makes educational applications universal and in demand. On one hand, these features are used sparingly. On the other hand, if a person has such a need, you can help. This will reduce learning anxiety and increase loyalty to you. 
Gamification. It always makes the process of learning more attractive to people. If we play a game, we don't notice the time we spend playing it. So, learning can be gamified, too. 
Block mode of teaching (BMT). It is convenient because the user can see the mark of passing some stage of learning. The block is passed, and the user doesn't worry about it. This helps the person to focus on learning new information.
Progress level. It is cool to show what progress a person has made in learning. We mean how much he has passed, what he has learned, what skills he has mastered, and how much remains to be learned. Achievements along the way can motivate the student to move on.
If you are looking for a reliable development team to create your educational project – contact us right now. We will do everything you need. If you are just pondering the idea, we can consult you regarding all the pitfalls and opportunities.
How can SoloWay Tech help you develop an educational app?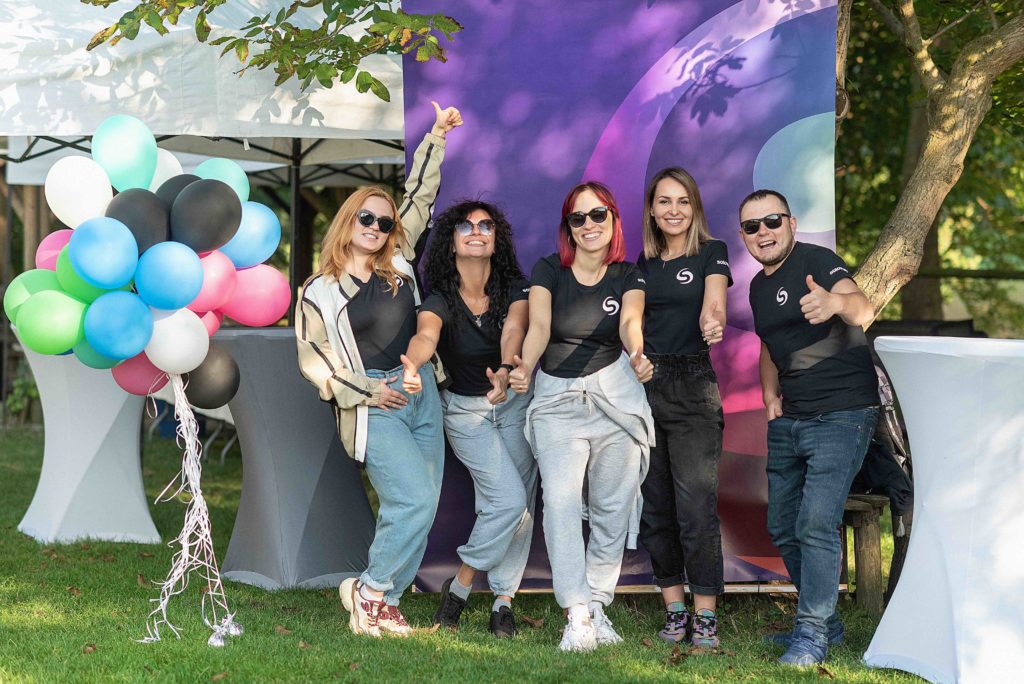 Our SoloWay Tech team has been in the development market for over 15 years. For this time, we've created over 1000 projects. Our advantages:
We will help you make what you want as convenient as possible. We will advise you on how to realize your idea so that it improves the lives of your target audience.
We'll tell you where you can save money. We know what helps to simplify development while maintaining quality. If we see that some solution can be applied to your project, we offer it to you.
Our experience will work for your product. We will put all our skills, knowledge, abilities, and vision into the project for your business.
The last educational project we worked on was an educational app Optima School. It is the first and largest online education school in Ukraine, offering its students the opportunity to receive modern European education. We developed a business strategy and app, then conducted QA and released the app. Still, we provide deployment & support services for Optima School. Look for a reliable IT partner? Contact us to discuss your future educational app!
Conclusion
We at SoloWay Tech try to make the development process transparent, understandable, and predictable for our clients. To do this, we:
Discovery phase. We investigate your idea and guide you on the timing and cost of the application before the start of development.
Keep strict reporting. You will always know what we are doing on the project and its progress.
We work in iterations. We use Agile methodologies and manage development time with the help of the Gantt chart.
People try to learn throughout their lives: acquire new hard and soft skills, develop creatively, and try something new and unfamiliar. Most importantly, people are already motivated to learn. And your future educational software can help them!